For The Love Of StoriesBig Finish produce fantastic full-cast audio dramas for CD and download.
5 July 2023
The Fifth Doctor and his companions, Tegan, Nyssa and Adric, are trapped in an alternative reality in the latest Doctor Who Audio Novel, written and read by Matthew Waterhouse.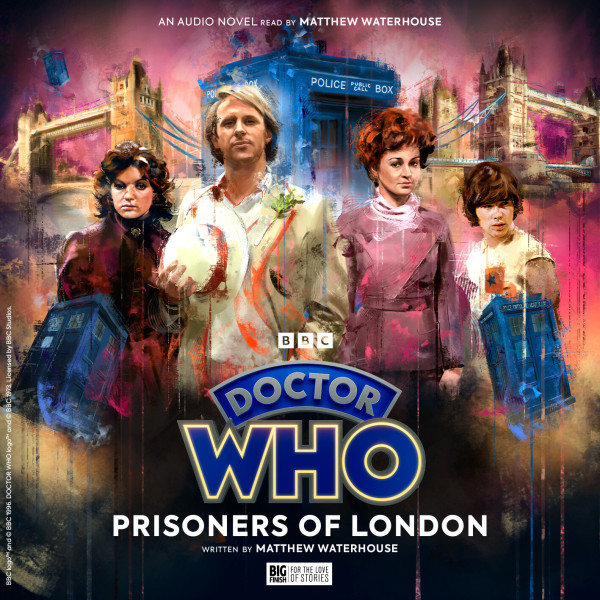 The Audio Novels are fully immersive Doctor Who audiobooks with a single narrator, featuring specially composed music and sound effects. Each takes the listener on an exciting six-hour journey into space and time.
Doctor Who – The Audio Novels: Prisoners of London, is now available to own for just £17.99 (digital download only), exclusively here.
At last, the TARDIS has got it right! The Doctor, Adric, Nyssa and Tegan have landed in London, 1982!
Look over there! Buckingham Palace. Look! There's Tower Bridge! It's only a tube journey to Heathrow! Tegan rejoices.
And yet... The Palace is home not to a Queen but to an Emperor! The familiar soldiers in busbies are robots. There is not just one Tower Bridge, there are four! There are 1950s police boxes on every street corner. And no-one has heard of Heathrow...
But the TARDIS is not wrong. It is London 1982, no doubt about it. As the Doctor tries to work out what's happening, he is accused of trying to assassinate the Emperor; Adric and Nyssa are kidnapped; and Tegan is sentenced to life imprisonment on the moon.
As if this was not enough, there is something fearsome waiting underground which will change the lives of every Londoner forever. All in London, 1982.
Speaking to Doctor Who Magazine issue 592 this month, writer and performer Matthew Waterhouse said: "I wanted to do something set in London but I realised [this TARDIS crew] can't go there, otherwise Tegan would be home.
"I loved the idea of the TARDIS getting them to the right place, but it's wrong at the same time. I ran with the idea of this planet London, where they rebuilt Tower Bridge. Well, actually they built four of them because they liked it so much. It made sense that these colonists would name the planet after a city from home, because many American towns are named after British towns."
Big Finish listeners can save money by purchasing all six titles in the first Doctor Who – The Audio Novels collection together as a bundle for just £99. This includes the forthcoming title, Doctor Who: The Chaos Cascade, written by Colin Brake and due for release in January 2024.
A 60th anniversary special Audio Novel entitled Doctor Who: The Box of Terrors is also available for pre-order for just £17.99, due for release in November 2023.
Praise for previous Doctor Who – The Audio Novels: The Dead Star:
"The Dead Star is nothing short of a triumph... the must-buy of the range to date"

– Warped Factor

"A strong story that flies by despite its immense runtime, partly thanks to [Kate] Orman's ever- evolving script and partly due to [Michael] Troughton's excellent performance"

– Who-Review

"Character driven science fiction story from one of the best writers Doctor Who has ever seen, and one that I can only highly recommend..."

– Indie Mac User

"Steve Foxon deserves high praise for his efforts in the sound and music department here"

– Glam Adelaide
All the above prices include the special pre-order discount and are subject to change after general release.