For The Love Of StoriesBig Finish produce fantastic full-cast audio dramas for CD and download.
Michelle Gomez returns as Missy!
30 January 2023
Story and cast details are revealed for the second full-cast audio adventure in the brand-new box set celebrating International Women's Day 2023.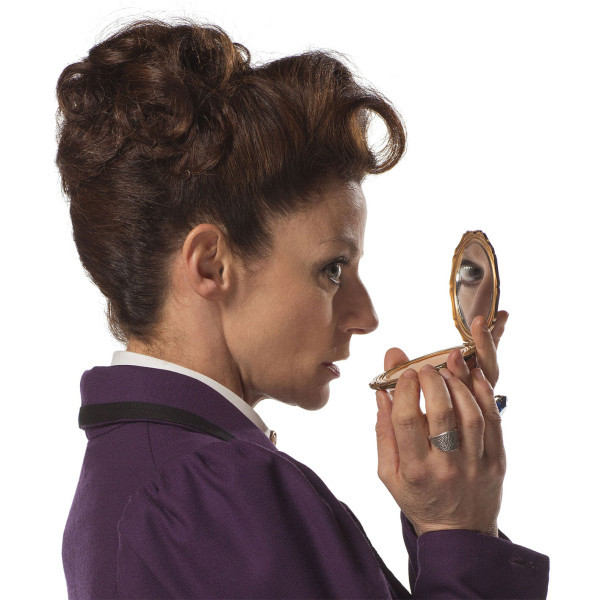 BAFTA-nominee Michelle Gomez reprises the role of Missy – the first female incarnation of the renegade Time Lord, the Master (or Mistress) – in The Eighth of March: Strange Chemistry.
Fairies At The Bottom Of The Garden, written by Karissa Hamilton-Bannis, also marks the Big Finish debut of Caitlin Blackwood who's back as the young Amelia Pond, but this time she's a troubled teenager!
Michelle Gomez said: "Missy is a joy to play because she doesn't give a damn about what anyone thinks. Missy is always desperate to get to the Doctor and will stop at nothing. She's fearless in her mission and uses her great charm to be as creative and manipulative as possible.
"In this story, we find Missy meeting the young Amelia and she's up to no good as usual. But I think, in some ways, she may have met her match. Amelia is a really fun character for Missy to interact with."
Caitlin Blackwood added: "Amelia is struggling through her teenage years. She meets Missy for the first time and is trying to figure her out. It's really interesting when two strong-headed characters come together. I like how Amelia stands her own. It's been a long time since I played Amelia and coming back to it was like riding a bike. I've had a lot of fun. I've loved it."
As previously announced, Leela (Louise Jameson) and the Fourth Doctor (Tom Baker) encounter the brilliant scientist Marie Curie (Holly Jackson Walters) in the box set's opening historical tale, A Ghost of Alchemy.
The Worlds of Doctor Who – The Eighth of March: Strange Chemistry is now available to pre-order as a collector's edition 3-disc CD box set (+ download for just £19.99) or as a digital download only (for just £16.99), exclusively here.
Scattered through time and space, many women have crossed paths with the Doctor – friends, foes, and figures from history – and there can be a strange chemistry when they meet...
Impulsive warrior encounters celebrated scientist, as Leela and the Doctor run into Marie Curie in 1920s America.
And in a quiet English village, one of the Doctor's oldest enemies seeks out one of his most devoted companions to find an escape – and the results are explosive!
A Ghost of Alchemy by Louise Jameson
When the TARDIS lands in New York in 1921 the Doctor takes the opportunity to introduce Leela to one of the foremost women of the age - the great Marie Curie, visiting America to be celebrated for her work.
But the time travellers are not the only people interested in the famous scientist. Sinister forces are gathering around her and the TARDIS crew will have to work their utmost to keep her safe on her historic journey through the United States.
Fairies At The Bottom Of The Garden by Karissa Hamilton-Bannis
Young Amelia Pond is used to getting into trouble. After another fight at school, she is sent back to counselling. But her new therapist is rather unconventional...
Because Missy is also in trouble. Stuck on Earth, she's targeted one of the Doctor's best friends to get his attention – but her timing's off. Amy's TARDIS encounters lie years in her past and future, but there's something strange in her garden now. As Missy sets her sights on young Pond, the fairies may be her only hope!
The Worlds of Doctor Who – The Eighth of March: Strange Chemistry is now available to pre-order for just £19.99 (collector's edition CD box set + download) or £16.99 (download only).
Big Finish listeners can catch up on the first two box sets of The Eighth of March in a bundle for just £45 (collector's edition CD box set + download) or £40 (download only).
All the above prices include the special pre-order discount and are subject to change after general release.
Big Finish is currently operating a digital-first release schedule. The mail-out of collector's edition CDs may be delayed due to factors beyond our control, but all purchases of this release unlock a digital copy that can be immediately downloaded or played on the Big Finish app from the release date.