We love StoriesBig Finish produce great full-cast audio drama for CD and download, featuring many popular television fantasy series.
5 February 2019
The latest regeneration of the Master returns in her own series on audio. Michelle Gomez reprises the role of the Doctor's arch enemy and the cosmos' most demented nanny in four brand new adventures...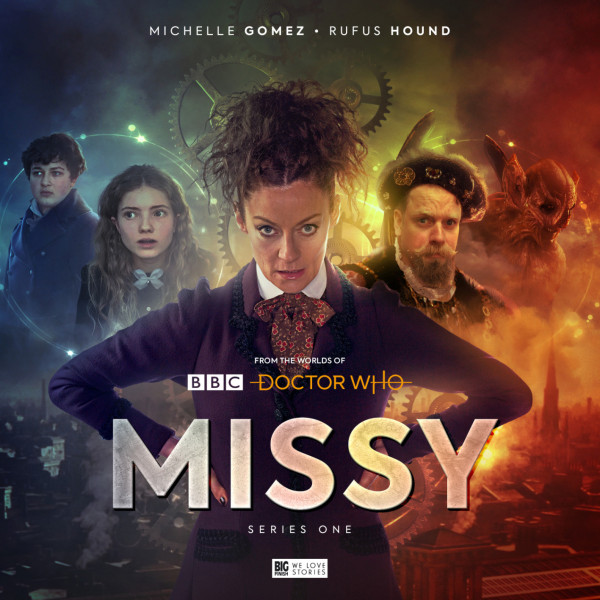 Missy Series One is available now.
Missy… alone, unleashed and unfettered. What does she get up to when the Doctor isn't around?
Well, Missy has a plan. And to carry it out, she's going to have to break some rules. And people. And planets.
Look out universe, Missy is on a mission. And nobody is going to stop her…
1. A Spoonful of Mayhem by Roy Gill
In a spot of bother in Victorian London, Missy is forced to take on governess duties. But she has another scheme in mind, and her charges are simply in the way. She's going to have to teach the children some rather harsh lessons about getting what you want. And there will be tears before bedtime.
2. Divorced, Beheaded, Regenerated by John Dorney
Missy arrives in Tudor England, throwing the plans of another renegade Time Lord into chaos. King Henry VIII is on the throne, and aliens are stomping through the countryside. Missy just wants to be Queen. And the Monk? Once he knows who else is on the scene, he'll be glad just to stay alive…
3. The Broken Clock by Nev Fountain
Tonight, on Dick Zodiac's America's Most Impossible Killers, Detective Joe Lynwood hunts the most impossible killer of his career. There's a trail of bodies. Impossible bodies. And Joe has one long night to solve the case. Luckily, DI Missy Masters from Scotland Yard in England, London, England is here to help…
4. The Belly of the Beast by Jonathan Morris
Missy's scheme nears completion. All she must do is subjugate one little planet and bend the inhabitants to her will. Not too much to ask… But slaves will keep rebelling. It's almost as if they don't want to unearth an ancient artefact to fulfil Missy's plans for universal domination. She'll have to do something about that.
Michelle Gomez told us more about letting Missy loose in the universe at the series announcement back in September 2018: "I was very excited to return to Missy's world via the medium of audio because along the way I've always had a lot of fun with Missy; her voices and her rhythms. I absolutely love capturing it and distilling it down to the word on the page.
"I'm absolutely delighted! She's such a ridiculously brilliant character, and hopefully that earns her that moment in the spotlight. To find myself centre stage with these Missy adventures is thrilling – I'm very grateful."
Missy Series One is available now at £23 on CD or £20 on download. It will remain at this price until general release when it will be available for £35 on CD or £30 on download.
For more adventures with the Master/Missy, you can also catch Michelle Gomez alongside Alex Kingston, Geoffrey Beevers, Derek Jacobi and Eric Roberts in The Diary of River Song Series Five. Available now at its pre-order special price of £23 on CD or £20 on download.