For The Love Of StoriesBig Finish produce fantastic full-cast audio dramas for CD and download.
Murder on the Nemesis Express!
11 October 2022
The movie Master shows no mercy to bounty hunter Vienna Salvatori in a brand-new box set of full-cast audio dramas, released today by Big Finish Productions.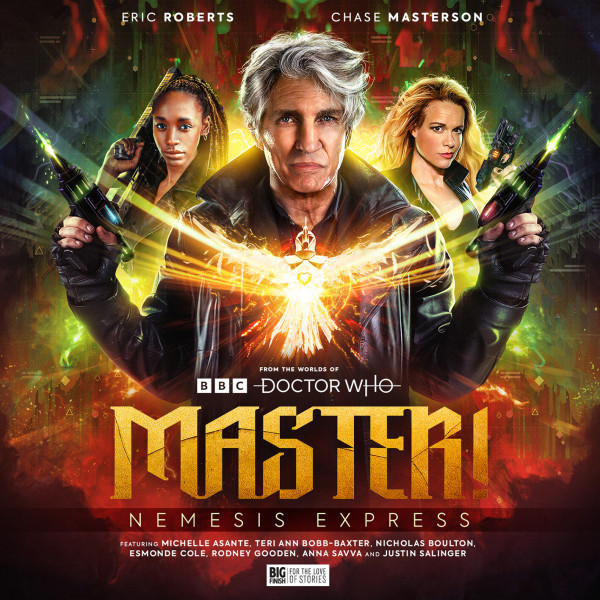 Eric Roberts stars as the charmingly deceptive Master in this hypnotic audio movie. Star Trek's Chase Masterson also returns as Vienna, teaming up with alien thief Passion (Teri Ann Bobb-Baxter) to stop the vengeful Time Lord from clawing his way back to life...
Step aboard the Kairos, a recreational cruiser which traverses the Time Vortex itself.
Vienna Salvatori is on a mission, and must make her way up the serpentine vehicle, from the crime-ridden rear segments, through the enclosed compartments of the mega–rich, all the way to front of the ship to face the man who controls it all... the Master!
The Worlds of Doctor Who – Master! Nemesis Express is now available to own as a collector's edition CD box set (+ download for just £19.99) or download only (for just £16.99) here.
The three episodes are as follows:
Nemesis Express by Robert Whitelock
Vienna Salvatori boards the Kairos in search of a stolen gem, and young thief Passion is hiding out and feels like the ship itself is watching her.
Both women are about to be thrown together, and it's no accident. For the ship's Vortex drive has brought the Master back from oblivion, and he has plans for them both.
Capture the Chronovore! by Lizbeth Myles
Vienna and Passion pursue the Master, but to find out what he's up to they must find a way through the ship's classier compartments.
With their weapons confiscated and champagne on ice, they're invited to join an exclusive shooting party, hunting the Vortex's great game – Chronovores! – and the Master is most definitely dressed for the occasion.
Passion by Robert Valentine
Finally reaching the head of the ship, Vienna and Passion find themselves exactly where the Master wants them. The Time Lord has more than revenge on his mind, however, and if they can't stop him, nothing in the universe will.
Script Editor and writer Robert Valentine said: "The Master and Vienna are great to write for not only because Eric Roberts and Chase Masterson have such incredible chemistry, but also because Vienna is an anti-hero.
"However, when opposed with this diabolical incarnation of the Master, her good, decent and heroic qualities are forced to shrine through. Yes, she's a rebel and a maverick but when faced with pure evil, you realise that she's ultimately on the side of the angels, even if that's just by default."
Producer David Richardson added: "The pairing of Eric and Chase was a bit of serendipity and it really works, such contrasting characters who we throw into clearly defined worlds and let them battle it out!
"Working on so many ranges where the titular character is the good guy, it's a refreshing change to have a series where the lead character is bad! Worse than bad, he has no redeeming qualities whatsoever. I'm hoping that this incarnation of the Master wreaks havoc on the universe for many box sets to come."
Master! Nemesis Express is now available to own for just £19.99 (collector's edition CD box set + download) or £16.99 (download only), exclusively here.
Big Finish listeners can save money by purchasing the first and second Master! box sets together in a bundle for just £39 (collector's edition CD box set + download) or £34 (download only).
All the above prices include the special pre-order discount and are subject to change after general release.
Big Finish is currently operating a digital-first release schedule. The mail-out of collector's edition CDs may be delayed due to factors beyond our control, but all purchases of this release unlock a digital copy that can be immediately downloaded or played on the Big Finish app from the release date.