We love StoriesBig Finish produce great full-cast audio drama for CD and download, featuring many popular television fantasy series.
18 November 2017
Coming out in June 2018, Seán Carlsen plays Time Lord Narvin in Short Trip, Erasure.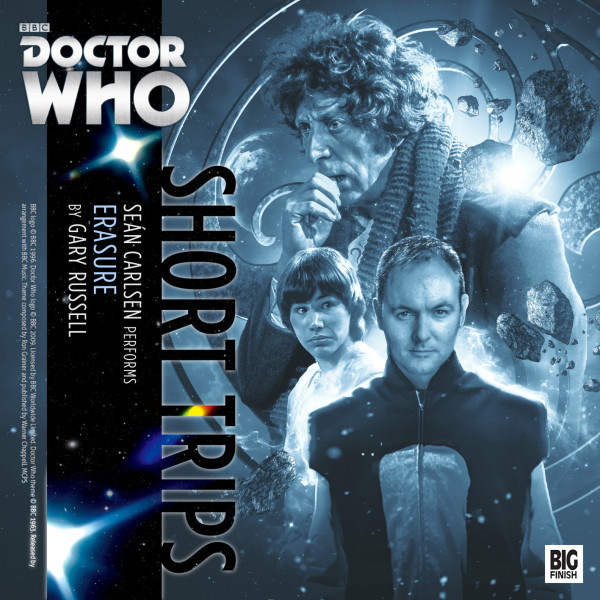 Set during the time that the Fourth Doctor was travelling with Adric, Time Lord Coordinator Narvin regales us with a tale from the depths of Gallifrey's history.
Fans will recognise Narvin from his adventures in Gallifrey with Leela, President Romana, and Ace, and Dark Eyes 3 with the Eighth Doctor, Molly Sullivan and Liv Chenka. And he'll also be in upcoming release, Gallifrey: Time War.
The Celestial Intervention Agency, a shadowy, unspoken of part of the Time Lord hierarchy. Beloved and loathed in equal measure by various Presidents and High Councils the millennias over. But they serve a very important function: they keep the time lines safe and clear - they do the darker, dirtier jobs that most Time Lords would prefer not to know even need doing.
CIA Sub-Coordinator Narvin has always taken his oath to uphold the Worshipful Laws of Gallifrey very seriously. But when he is sent on a mission to investigate the planet Bellascon, even he hasn't reckoned with the force of nature that is the Fourth Doctor, who has - one might say - his own way of dealing with things, and his own views on people like Narvin. But somehow the two must overcome their instincts and work together to stop the web of time being erased forever...
Directed by Gary Russell, producer Ian Atkins tells us more about bringing Seán Carlsen in to the Short Trips range.
"Narvin's very vocal fan following and Seán Carlsen being incredibly enthusiastic about all things Big Finish, were the start of Erasure. I'd been looking for a few Short Trips ideas that would flirt with other Big Finish Doctor Who ranges and characters, and at the time Seán Carlsen had come into the office to record a podcast with Nick Briggs. He got very excited about doing a Short Trip, and suggested I spoke to the current Gallifrey production team about what they could do with the character.
"Scott Handcock recommended that I approach Gary Russell, and before I knew it Gary and I were swapping notes about the Fourth Doctor and Adric's return to normal space, and how perhaps their paths would cross with a young Narvin. Indeed, having Narvin as he's starting out has been a fascinating angle on this character, which Seán has really embraced, and which the Short Trips are all about.
"Appropriately for a season 18-set story, it's been full circle for me, as Gary's enthusiasm and support for my fanzine Land of Fiction back in 1985 helped sow the seeds for a lifetime's fascination with Doctor Who stories, something that's ultimately enabled me to embrace the Short Trips range with both hands."
Big Finish can also confirm a few other Short Trips being released in 2018. Trap for Fools by Stephen Fewell is a Fifth Doctor tale read by Mark Strickson – out in July. The Darkened Earth by John Pritchard has Ms Constance Clarke and the Sixth Doctor is read by Miranda Raison – out in August. And Carole Ann Ford follows up on the epic All Hands on Deck short trip with A Small Semblance of Home by Paul Phipps – a First Doctor, Ian, Barbara and Susan tale – out in September.
Make sure you don't miss this and all the other new Short Trips available on download (only) at £2.99 from Big Finish. Or you can save money with a subscription to the Short Trips range and get 12 stories for £30 a year.
Also coming out next year from Short Trips we catch up with the MetaCrisis Doctor and Jackie Tyler in The Siege of Big Ben and Flight into Hull!, both starring Camille Coduri as Jackie. You can listen to the trailer for The Siege of Big Ben below: