For The Love Of StoriesBig Finish produce fantastic full-cast audio dramas for CD and download.
On land and at sea with Three!
24 February 2021
The Third Doctor is on the run with UNIT and finding his sea legs in the two tales from Doctor Who – The Third Doctor Adventures: Volume 7.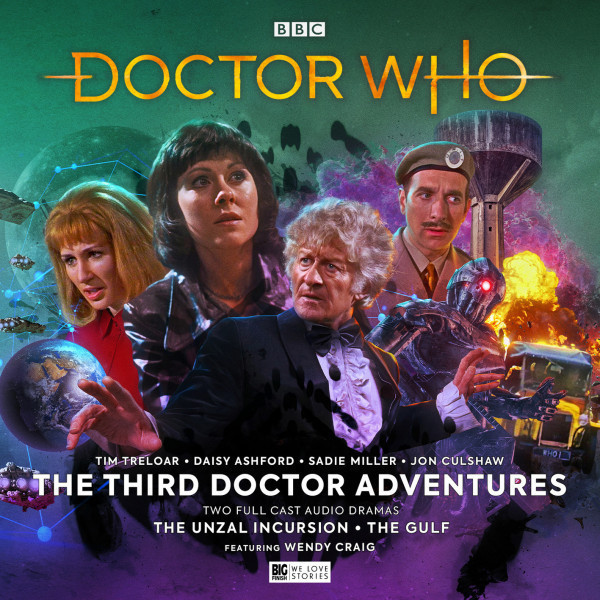 Released in May 2021, the storylines are today revealed for these full cast audio dramas, as this duo of delights tell the stories of a military betrayal that leads to a terrifying discovery, and an artistic retreat where all is not as calm as it seems...
Tim Treloar once again steps into the shoes and velvet jacket of the Third Doctor, accompanied for this latest volume by Jon Culshaw as the Brigadier, Daisy Ashford as Liz Shaw, Sadie Miller as Sarah Jane Smith, and guest star Wendy Craig as a rather flirtatious alien.
Doctor Who – The Third Doctor Adventures: Volume 7 is now available to pre-order as a collector's edition box set (on CD for just £24.99) or a digital download (for just £19.99), exclusively HERE!
These two thrilling tales are as follows:
The Unzal Incursion by Mark Wright
Under the supervision of the Doctor, the Brigadier and Dr Liz Shaw, UNIT are getting ready to activate Hotspur: their new and advanced early warning network.
But something goes wrong, and UNIT are betrayed from within. Suddenly bases are falling across the globe, and only the Doctor and his friends are able to escape.
Not knowing how far the conspiracy goes, the Doctor, Liz and the Brigadier become fugitives... and they soon discover worrying connections to both the Fulcrum military training facility... and something beyond this Earth.
The Gulf by Tim Foley
The TARDIS lands on an ocean planet and the Doctor and Sarah find themselves on a former rig that's been converted into an artistic retreat.
But art is far from the residents' minds. A painter has disappeared, and the Doctor senses a dark psychic presence at play.
The waves are rising. And there's something in the water.
Script editor John Dorney said: "It was great getting the opportunity to take The Third Doctor Adventures into different parts of his era... and with two very contrasting scripts set in very contrasting places. We've a modern-day UNIT adventure that couldn't be more season 7 if it tried, and a strange tale of odd events on another world in a highly unusual environment. And the return of Sarah-Jane Smith and Liz Shaw as the Doctor's companions to boot!"
Of playing Liz, Daisy Ashford said: "It's been wonderful to look back. The way that my mum said things, that was very distinct – and I've tried to capture that. And obviously having the advantage of sounding a little bit like her to start with, that helped!
"It's such a special character to play because she is that strong, intelligent, liberated woman that doesn't take any nonsense, and I really enjoyed those scenes where she's gathered all her strength together and not given in! It's been nice to get a hold of Liz as herself and the relationship she has the Doctor and the Brigadier, which I think is deepening and getting richer. I felt a lot of real connection in this one, a real warmth for each other, which is really special. It feels like something is being built between the three of us and that's really lovely to play."
Of The Gulf, actress Sadie Miller added: "This is a feisty, feminist adventure really! We've got a brilliant female villain, and the Doctor comes up against something that he's never really tackled before. It's an ideal monster for audio – there's lots of things going on in the mind that I think will really draw an audience in, and really feel the creepiness along with the Doctor as well."
Doctor Who – The Third Doctor Adventures: Volume 7 is now available to pre-order as a collector's edition box set (on CD at the special price of £24.99) or a digital download (at the special price of £19.99), exclusively HERE!
Big Finish listeners can save even more money by pre-ordering this volume in a bundle together with the forthcoming Third Doctor Adventures Volume 8 from just £39.
Big Finish is currently operating a digital-first release schedule. The mail-out of collector's edition CDs may be delayed due to factors beyond our control, but all purchases of this release unlock a digital copy that can be immediately downloaded or played on the Big Finish app from the release date.