For The Love Of StoriesBig Finish produce fantastic full-cast audio dramas for CD and download.
Doctor Who - Short Trips - How to Win Planets and Influence People
29 June 2017
Returning to the Whoniverse once again, the Meddling Monk seeks his revenge in this Fourth Doctor Short Trip!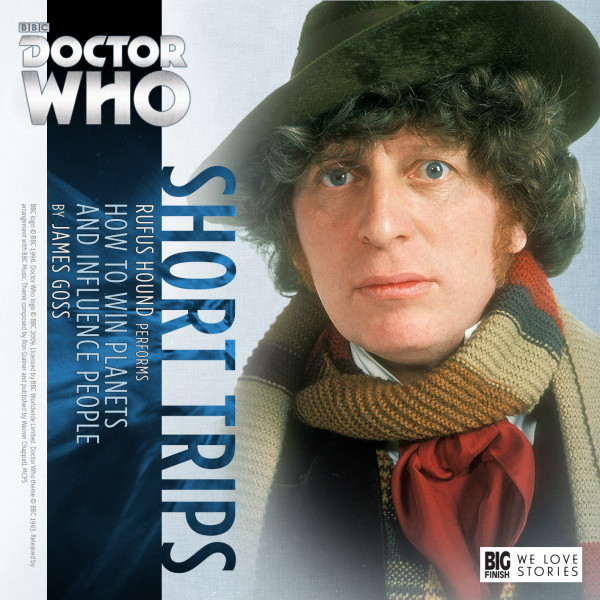 After his appearance in Doctor Who: Doom Coalition 4, the Meddling Monk (originally from Doctor Who serial The Time Meddler in 1965) is back in the latest of the Short Trips range. Written by James Goss, directed by Lisa Bowerman, produced by Ian Atkins and starring Rufus Hound, this Short Trip: How to Win Planets and Influence People is unlike any you're heard before.
9AM: Registration
10AM: Our Opening Guest Speaker discusses Strategic Invasion Plans, including things to look out for, Time Lords to avoid, and tips on crushing the lesser races
11AM: Biscuits and Coffee
12AM: Continuing on from his opening talk, our Guest Speaker discusses bringing the universe to its knees
1PM: Lunch
A dynamic talk with slides. The Meddling Monk has lectured widely for several centuries, and his wisdom is contained in the following bestsellers: The 7 Habits of Truly Terrible People, Who Moved My Sun?, Feel the Fear and Detonate It Anyway, The One Million Year Manager and Ice Men Are From Mars, Karate Is From Venus.
This is a Fourth Doctor Short Trip, and his companions are Harry and Sarah. We asked writer James Goss about this latest instalment in the Monk's evil plans:
"What if your your motivational speaker wasn't just evil but secretly taking over your company, and having a great time doing it? What's great about Rufus Hound's Meddling Monk is that he's not evil in a "My army awakes!" way. You get the feeling he fits his evil schemes in around antiquing and putting up a shelf. Under his Gallifreyan robes there's a cardigan and, on chilly days, a hot water bottle. It's joyous to see Big Finish developing the Monk. Perhaps one day we'll see The Master, The Monk and The Rani go on Bargain Hunt. Admit it, you'd buy that. Just to see the Master's reaction when his lovespoons fail to meet their reserve while the Rani unleashes her genetically engineered wasps. And, somewhere in the tea tent, the Monk puts down a scone and sighs sadly.
The story was inspired by all those meetings we've all sat in. Those interminable, endless meetings. But what if, what if they really designed to hypnotise by a sinister genius...?"
You can get this Short Trip now at £2.99 a download, which works great with the Big Finish app, available for iOS or Android. You can also get the monthly Short Trips as a subscription, saving you the cost of two Short Trips a year!
Coming up next in the Short Trips range, Flashpoint, narrated by former Paul McGann companion, Sheridan Smith!