For The Love Of StoriesBig Finish produce fantastic full-cast audio dramas for CD and download.
Out Now: Blake's 7 - Crossfire Part 1
17 October 2017
An epic new saga for the Liberator crew, the first installment of four new adventures for Blake's 7 is blasting off today.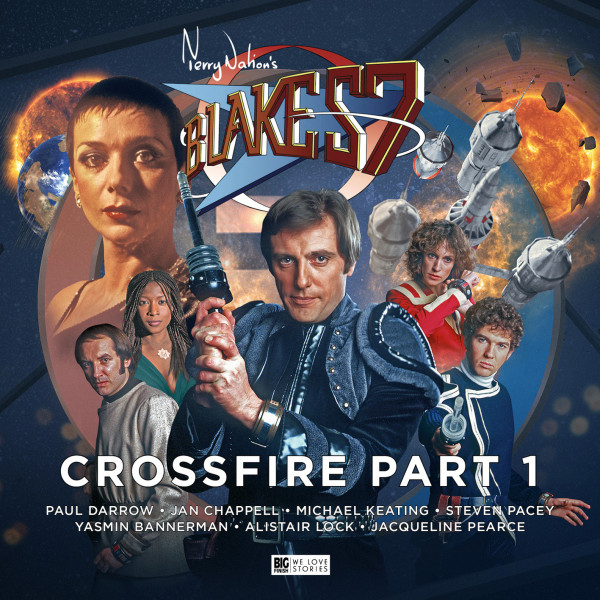 Out now from the world of Blake's 7, Crossfire is a momentous arc of an adventure set around the third series of the classic TV programme. Crossfire: Part 1 consists of four new adventures following on from The Spoils of War.
Blake's 7, which started in 1978, was devised by Terry Nation – the creator of the Daleks and Survivors, as well as contributing heavily to the early days of Doctor Who. Blake's 7 was praised for having strong characters (whose storylines have continued at Big Finish) as well as testing the morals of its crew – and showing a very different exploration of a universe at war.
The four new tales in Crossfire: Part 1 are:
1 – Paradise Lost by Steve Lyons
Erewhon was a legendary vacation planet – until it was ravaged by acid storms. A new friend brings the Liberator crew here, their objective: to assassinate an old enemy. But what they find beneath Erewhon's surface will plunge the galaxy into turmoil.
2 – True Believers by Simon Clark
A mysterious voice forces Cally to a barren world where barbarians threaten a beleaguered city. There, Cally joins a dangerous quest to the Singing Grave, encountering evil of immense ferocity and power.
3 – Resurgence by Mark Wright
A distress signal lures the Liberator to an uncharted world, where the ship's systems come under attack from an outside influence. Avon and the crew face a spectre of the past that could destroy their hopes for the future.
4 – Fearless by David Bryher
A criminal scheme threatens the balance of power in the Federation, and Vila's skills offer the best hope of containing the chaos. Bolstered by Cally's telepathy, he leaps into action – but when Servalan arrives on the scene, the situation quickly spirals out of control...
We talked to producer John Ainsworth about this thrilling launch and huge undertaking for the cult show. John explained, "With Crossfire, we're setting out to recreate something of the feel of the seasons of the TV series. Together, all three box sets of Crossfire will form a season of 12 episodes. Each episode will tell a self-contained story but there will also be a linking story arc which will come to a climax at the end of the season.
"Unlike our previous full-cast releases, and partly dictated by the sad loss of Gareth Thomas, all our new Blake's 7 stories will now be set during the same timeframe at the very end of the third TV series, and will tell their stories in chronological order. Hopefully, this will be an even more rewarding listening experience as characters and themes develop over time."
Catch the first part of Crossfire today available on CD at £28 or on download for £25. The second set of Crossfire tales will be launching in January 2018.
You can also save money by getting all the Crossfire adventures as a bundle for £84 on CD or £74 on download. Or combine Crossfire in a bundle with series three, The Spoils of War, all for £100 on CD or £80 on download.