For The Love Of StoriesBig Finish produce fantastic full-cast audio dramas for CD and download.
Paul McGann Returns to the Time War!
25 November 2022
Story details and cover artwork are today revealed for Time War - Cass, January 2023's forthcoming box set of Eighth Doctor audio adventures.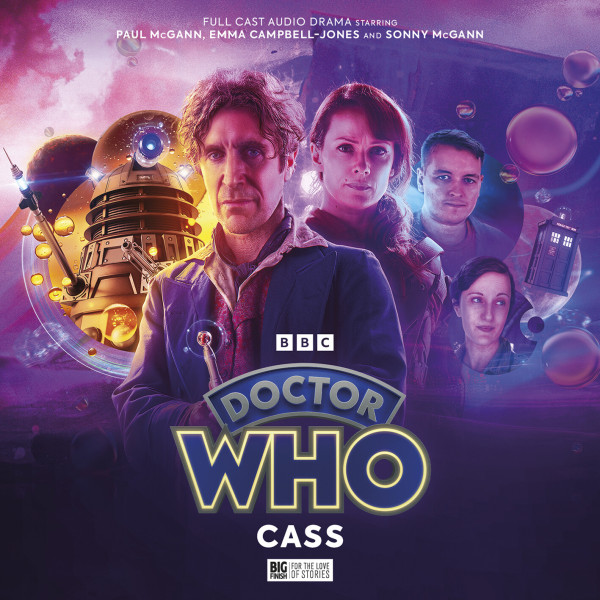 Paul McGann stars as the Doctor in three brand-new full-cast audio dramas with a new TARDIS team! Sonny McGann returns as Alex Campbell, first heard in the 2010 Big Finish story, An Earthly Child, and Emma Campbell-Jones reprises the role of Cass a decade after her appearance in the Doctor Who mini-episode, The Night of the Doctor.
Also joining the stellar cast are Nadia Albina (as Oshia), Gareth Armstrong (as Davon), Jaye Griffiths (as Hieronyma Friend), Simon Shepherd (as Hudson Sage) and Nicholas Briggs (as the Daleks).
The Doctor and his great-grandson Alex are back travelling the universe together... but when that universe is in the grips of a Time War, the unexpected lurks around every corner.
And what could be more unexpected than a new friend? The TARDIS crew are about to meet Cass - a woman destined to play a big role in the Doctor's life...
The Eighth Doctor Adventures - Time War: Cass is now available to pre-order for just £24.99 (collector's edition CD box set + download) or £19.99 (download only), exclusively here.
Meanwhile, Elsewhere by Tim Foley
The Doctor and Alex arrive on a tropical beach where something's amiss.
Meanwhile, elsewhere... a desperate pilot runs for his life.
Meanwhile, elsewhere... it's Cass Fermazzi's first day on an errand-class starship.
Meanwhile, elsewhere... it's the beginning of the end of everything.
Tim Foley said: "There's so much possibility with the Time War. I was especially excited by the idea of a Doctor who's skirting around the edge of it and trying to avoid it, when we know he's destined to fall in.
"I really enjoyed establishing a new dynamic for our characters. Alex is travelling around time and space with his great-granddad and he's loving every minute of it. But at the heart of it, this is a story about Cass and although we've met her before, we know so little about her. She was such a blank canvas for us to explore. Hopefully, we've hit the ground running with these characters. It's quite a bonkers out-there story - as a lot of Time War stories are."
Vespertine by Lou Morgan
It's Cass's first trip in the TARDIS, and the Doctor is determined to make it one to remember. But when they arrive at a research base that shouldn't exist, built above a missing explorer's ship that should never have been found, it seems their visit's going to be memorable for all the wrong reasons.
Because deep beneath the ice, there's more than just a long-lost ship waiting for them...
Lou Morgan said: "The dynamic between the three main characters is quite open and friendly, but they're still getting to know each other. Alex has a really battery relationship with Cass and the Doctor is maybe showing off a little.
"Cass is so brilliant to write for because she has a quite tough exterior - she's the kind of character you want to get under the skin of to see why she has that hard shell."
Previously, Next Time Parts 1 and 2 by James Moran
The Doctor, Cass and Alex land to find out what's causing temporal anomalies with the TARDIS, and come across an uninhabited planet, a mysterious factory, and a weapon so dangerous, it could destroy the Universe. But things go catastrophically wrong...
James Moran: "I really enjoy how the lead characters work together. Cass calls the Doctor out on any nonsense and acts like the audience surrogate in a way.
"I feel really lucky to be a part of the Big Finish universe and to have written for Paul's Doctor and these other characters. Writing for the Daleks was also an absolute dream!"
Big Finish listeners can pre-order The Eighth Doctor Adventures - Time War: Cass and Time War 6 (title TBC), due for release in April 2024, together in a bundle from £39.
All the above prices include the special pre-order discount and are subject to change after general release.
Big Finish is currently operating a digital-first release schedule. The mail-out of collector's edition CDs may be delayed due to factors beyond our control, but all purchases of this release unlock a digital copy that can be immediately downloaded or played on the Big Finish app from the release date.