We love StoriesBig Finish produce great full-cast audio drama for CD and download, featuring many popular television fantasy series.
Pre-order savings - last chance!
26 April 2018
Don't miss the chance to save money with the pre-order prices on some of our recent releases, only available until the end of the month. With the demise of Cardiff, the world and time itself at stake, these adventures should not be missed!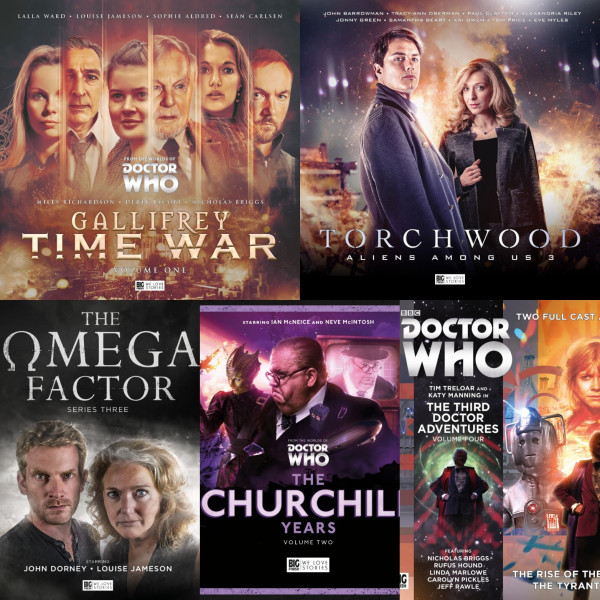 It's 1973 all over again with two firsts, as the Third Doctor encounters the Meddling Monk and the fearsome Cybermen in Volume Four of The Third Doctor Adventures. Tim Treloar reprises the role of the Third Doctor, and Katy Manning plays the effervescent Jo Grant. Join the Third Doctor and Jo, continuing the fight against alien menaces on behalf of UNIT, at £25 on CD or £20 on download.
Gallifrey: Time War, a four-story box set, sees how the conflict between the Time Lords and the Daleks tips into an all-out Time War, and nowhere across the universe of space-time is safe. Get it now at £23 on CD or £20 on download.
Torchwood: Aliens Among Us 3 is the explosive finale to series five of Torchwood, as Big Finish continues this cult television show. With all of Cardiff at stake, a leadership battle taking place, and more alien threats than ever, is the new Torchwood team ready? Find out what happens to Captain Jack, Yvonne Hartman, Gwen Cooper, Orr, Mr Colchester and Tyler Steele. Available for £28 on CD and £25 on download until May.
Or you can get the whole of Torchwood Series 5 in a bundle, at £75 on CD or £60 on download (but this will also rise at the end of April).
The third series of The Omega Factor stars Louise Jameson (who has also written one of the episodes) as Dr Anne Reynolds and John Dorney as Adam Dean, tune in – if you dare…!
Created by Jack Gerson, The Omega Factor was first broadcast on TV in 10 parts in 1979 – and it very famously annoyed self-appointed watchdog Mary Whitehouse. Get the third series of the audio adventures now at £25 on CD or £20 on download.
Ian McNeice reprises the role of the great Winston Churchill in The Churchill Years – Volume Two. And with him, for the first time in a Big Finish release, we welcome the wonderful Madame Vastra played by Neve McIntosh.
First seen in Doctor Who TV episode Victory of the Daleks, Churchill continues to KBO halting alien activity that threatens Great Britain, nay, the entire planet! Available at £23 on CD or £20 on download until May.
And don't forget, it's the last chance to pick up stories on one of Big Finish's biggest special offers. Choose from 99 tales featuring the Daleks, Pathfinder, the Eighth Doctor and Lucie Miller, Dark Shadows, Blake's 7 and more on download for just 99p each. To access this amazing offer go to https://www.bigfinish.com/offers/v/99for99returns and enter the code redballoons (all lower case). Enjoy!
Which of these releases has been your favourite so far? Do let us know on Facebook, Twitter and Instagram.