For The Love Of StoriesBig Finish produce fantastic full-cast audio dramas for CD and download.
17 July 2017
It is with great sadness that we learn of the death of Trevor Baxter.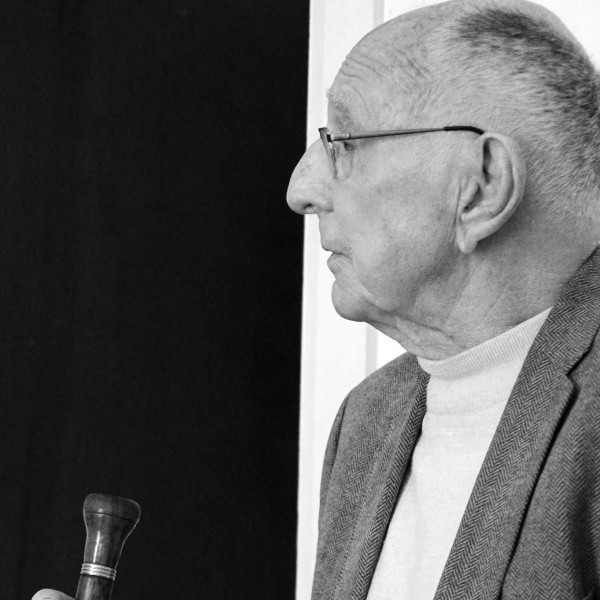 Trevor Baxter will always be a familiar name to fans of Big Finish and Doctor Who as Professor George Litefoot. His first unforgettable appearance was in The Talons of Weng-Chiang, the Doctor Who serial from February 1977, alongside Tom Baker, Louise Jameson and his partner-in-crime Christopher Benjamin.
After graduating from RADA in 1951, alongside names such as Joan Collins and Gerald Harper, Trevor Baxter has had an illustrious career on stage and screen, as well as behind the mike at Big Finish. Notable stage performances include David Mamet's A Life in the Theatre, performing with the RSC, and touring Shakespeare in South America.
Trevor was also a playwright as well as actor, his plays Lies, Office Games and Undertaking all opening in London. He also adapted greats from Oscar Wilde, with a national tour of Dorian Gray in 2003 and Lord Arthur Savile's Crime touring in 2005.
He continued to perform past a typical retirement age and to write and perform on stage, screen and the mike. Trevor has been an invaluable part of Big Finish and since May 2009 the Jago and Litefoot series has delighted listeners and remained a fan favourite, the last volume to be recorded was released just this year. With 13 series in 8 years, Trevor and Christopher have been some of our most prolific and joyful performers.
Trevor will be greatly missed. Our thoughts are with family and friends at this tragic time.
David Richardson: "In the nine years that I knew and worked with him, Trevor Baxter never stopped laughing. Even when he first joined Big Finish for the Companion Chronicle The Mahogany Murderers, he was not a well man, but his illness never seemed to dampen his joy of life. He loved reading - he didn't own a TV but read books on his Kindle voraciously. He loved classical music, and could talk about it with passion and at length. He was a hugely intelligent man with great taste, and yet he never made you feel uncomfortable if you didn't match his intelligence or taste. It was simply a joy to listen to him talking passionately."
"He also loved Jago and Litefoot, which kept him busy in the final years of his life, and he would listen to every single episode in every single release off the press, and write to me and tell me what he loved (which was usually everything). He adored working with Big Finish, but most of all he adored his co-star Christopher Benjamin, who he would tease mercilessly throughout every hour of every recording day. Those precious days (I think there might have been 60 of them) that I spent in their company were some of the happiest of my working life."
"Sometimes we would be crying with laughter, tears streaming down our faces, at the glorious badinage between takes. I will always remember Toby, our studio engineer, turning towards me during a break and saying, 'I absolutely love Trevor. I've never met anyone else like him. He's unique' That's how we all felt, and feel."
"Such a sad day. Doctor Who has lost one of its legends, and we've lost a dear friend."
Jason-Haigh Ellery: "I was always impressed by Trevor, a man with an opinion and a decisive way of giving it. It became a running joke that if I cancelled the Jago and Litefoot series he would have nothing to live for. I don't say that to be flippant but just to show his determination and his wicked sense of humour. He will be greatly missed by us all at Big Finish."
Lisa Bowerman: "Dear Trevor. What a spirit, what a brain, what entertainment… and what a friend and colleague. Lover of life and books and art, thoughts and ideas; the first person I knew to own a Kindle!"
"From the time I worked with him in the theatre - to the 6 splendid years I spent with him on Jago & Litefoot. You lightened our lives; and how lucky and privileged we were that you gave all your energy and talent to that splendid creation Professor George Litefoot. I can't think of a more brilliant epilogue to a long and brilliant career. RIP Trevor. Heartbroken."
Ian Atkins: "I was lucky enough to have been in on a number of recording sessions on the last few Jago & Litefoot sets, where meeting Trevor was never less than a pleasure and an inspiration. He'd hold court in the Green Room about all sorts of subjects, and it felt like he'd devoured every book there was, often looking at me and asking, "Oh, dear boy, have you read..." and having the tact not to look disappointed when I often said, "um... no". Indeed he'd then bring you up to speed with an accuracy most of my university tutors lacked, and welcome you into the conversation. His relationship with Christopher was warm and fun, and they were a double act as much behind the microphone as in front of it, providing many of my happiest Big Finish memories. It's incredibly sad news that I won't experience that again. Thank you so, so much Trevor."