For The Love Of StoriesBig Finish produce fantastic full-cast audio dramas for CD and download.
Rose Tyler Dimension Cannon
18 February 2019
Billie Piper reprises her role as Rose this September in the Big Finish release Rose Tyler - The Dimension Cannon. And now we can reveal who else will be joining her.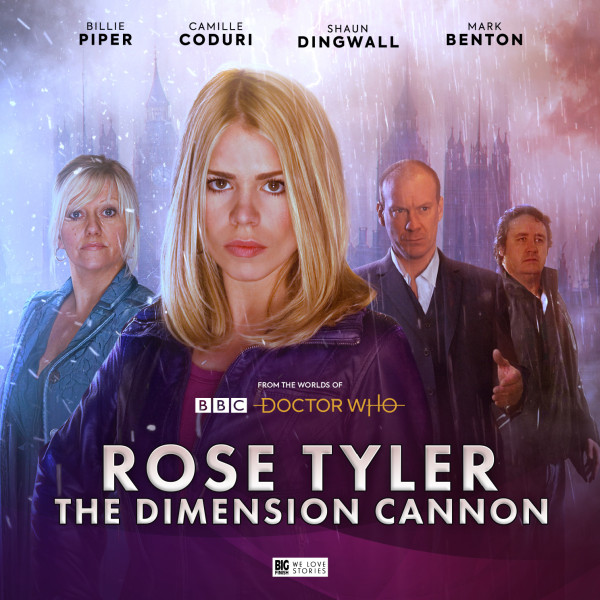 Billie Piper is returning to the Doctor Who universe in Rose Tyler – The Dimension Cannon, a new Big Finish audio series made in association with BBC Studios.
Four new adventures follow Rose's mission to seek out the Doctor, the only person who can save the doomed multiverse…
"I love how normal Rose is, and yet really extraordinary," says actor Billie Piper. "She lived a normal average life but she is incredibly curious and has an enormous capacity for love and empathy. She is really spirited."
'We've been building this travel machine, this dimension cannon, so I could… Well, so I could come back. Anyway, suddenly, it started to work and the dimensions started to collapse. Not just in our world, not just in yours, but the whole of reality.' Rose Tyler, Doctor Who: Journey's End
The four new adventures are:
1.1 The Endless Night by Jonathan Morris
1.2 The Flood by Lisa McMullin
1.3 Ghost Machines by AK Benedict
1.4 The Last Party on Earth by Matt Fitton
Focusing on the era of Russell T Davies, there are no alien threats or villains to defeat in The Dimension Cannon. Instead these amazing stories showcase the beautifully rich human characters of Doctor Who.
Rose Tyler: The Dimension Cannon sees the return of many of Rose's family and friends, as Billie Piper is joined by Camille Coduri as Jackie Tyler, Shaun Dingwall as Pete Tyler, Mark Benton as alien investigator Clive Finch and Elli Garnett as Clive's wife, Caroline Finch.
In the second episode, The Flood by Lisa McMullin, Joe Jameson plays Rob and Julia Hills, (from popular show 2point4Children) plays Margot Kinnear.
In Ghost Machines, Alistair Petrie (Rogue One, The Duchess, The Night Manager) joins the cast as Wallace Richards, alongside Claire Wyatt as Cee-Cee (who listeners will recognise from our Big Finish Original ATA Girl) and Dan Starkey (Strax from the Paternoster Gang) is the Machines.
And in a very exciting finale, The Last Party on Earth brings the Bad Wolf gang to audio for the first time. Patrice Okereke (Syrus Lowe), Mook Jayasundera (Waleed Akhtar), Odessa Smith (Elizabeth Ute) and Roni Bandara (Amerjit Deu) are all based on characters that Russell T Davies created for his Target novelisation of Rose. 'It's an absolutely beautiful episode,' says producer David Richardson, 'A soulful and moving piece about finding love at the end of the world.'
Rose Tyler – The Dimension Cannon will be released in September 2019 and is available for pre-order now at £25 on CD and £20 on download.
And now why not head to the Big Finish Twitter page for an exciting competition with an exclusive prize… a must for any fan of New Series Doctor Who.