For The Love Of StoriesBig Finish produce fantastic full-cast audio dramas for CD and download.
Second Doctor and Venusian Aikido!
16 April 2019
How did the Doctor learn Venusian Aikido (used frequently by Jon Pertwee's Third Doctor)? All is revealed in a Short Trip to Venus where two of the Doctor's companions become competitors in the Olympics…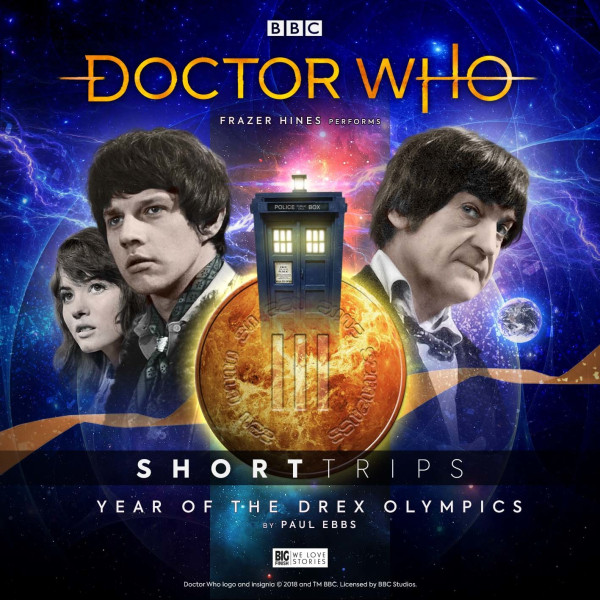 Year of the Drex Olympics, written by Paul Ebbs and performed by Frazer Hines, is out now.
All the Doctor wanted to do on Venus was learn their aikido. But as ever, his plans have gone awry. The TARDIS has been stolen to be a prize in the Venusian Olympics. The Doctor is furious, not only at the theft but also that it is the third place prize! Jamie and Victoria compete to win the TARDIS back, but soon find themselves winning every event.
The TARDIS crew normally win, but this time it might cost them everything…
Paul Ebbs, writer of this trip, told us about what inspired him, Haiiiii! "I've always had a love hate relationship with the Doctor's Venusian Aikido. When I was six it was the coolest thing on TV, with Pertwee Hi-yahing and Hi-eeeing straight out of a Hai-Karate advert, all suave Bond-i-ness with great one liners. Just watch him dispatch that Time-Guerrilla in Day of the Daleks. It's brilliant. The when I was older and more cynical, the slight whiff of ridiculousness overtook me, and I admit I made a little bit of fun of it in my BBC book The Book of the Still.
"So to come full circle, and be given the chance to marry those two aspects together by presenting my version of how the Doctor first decided to learn the art was a blast. It tied together those periods of my life as a fan in one big adventurous and gloriously silly bow. It doesn't get much better than that.
"Oh, actually, yes it does. Watching Frazer Hines reading it out was just the icing on the cake. Belting."
Year of the Drex Olympics is available now for £2.99 on download (only) from Big Finish.
Or why not save money with a bundle of the Short Trips range and get the 12 stories from series 9 for just £30 – a whole year's worth of stories to keep you going!
And if you purchase a bundle today, you'll immediately unlock these other Short Trips: a cryptic game for the Seventh Doctor in Doctors and Dragons; Leela meeting the Brigadier in The Revisionists; and the first story for the Twelfth Doctor at Big Finish in The Astrea Conspiracy.
Coming next month in the Short Trips range, Nicola Bryant reads a story for the Sixth Doctor and Peri where an iconic superstore gets a terrifying makeover in Under Odin's Eye.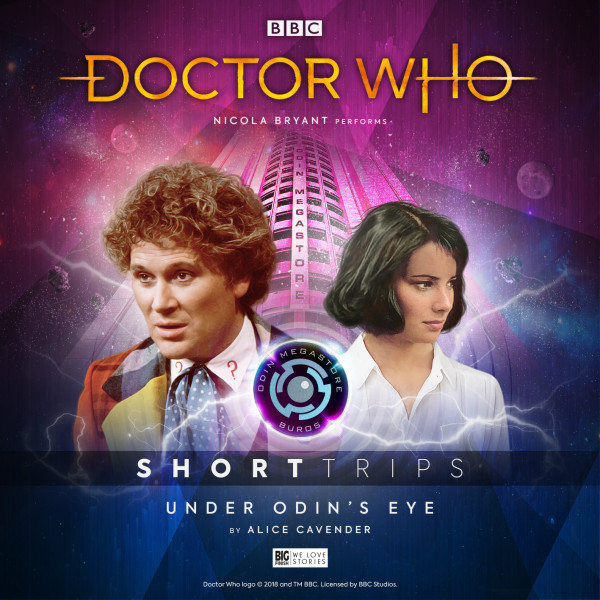 Sad about your local market shutting down? Don't worry about it! Come on down to ODIN Megastore, where we have everything you'll ever need. Enjoy our Hygge atmosphere. Browse stylish new ODIN wardrobes. Relax with friends on our new ODIN sofas. Friends gone missing? Meet new ones at our food-hall, where you can chill out and live happily ever after.
Welcome to ODIN Megastore, where everything is for sale. Even your planet.