For The Love Of StoriesBig Finish produce fantastic full-cast audio dramas for CD and download.
Sheer Audacity for Paul McGann and Jaye Griffiths
2 November 2023
It's time to step in a new direction with the Eighth Doctor as he makes a new friend and meets some old enemies in Doctor Who: Audacity, released today from Big Finish Productions.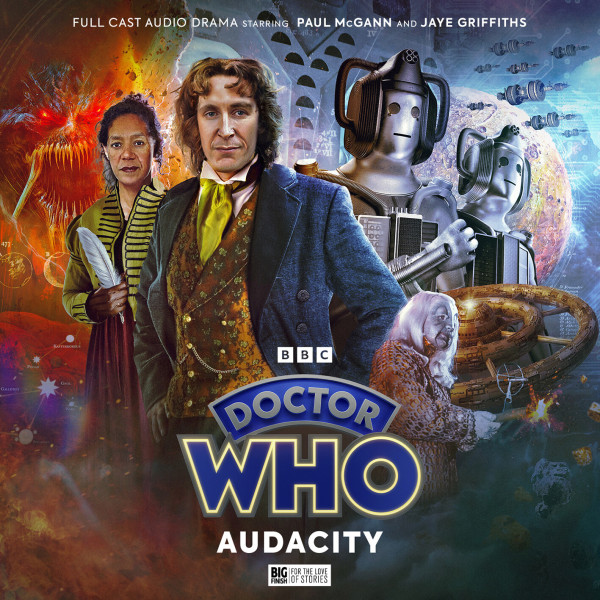 For more than two decades the Eighth Doctor (played by Paul McGann) has had a home on audio. From his early days with Edwardian adventuress, Charley Pollard (India Fisher) to recent escapades with Liv Chenka (Nicola Walker) and Helen Sinclair (Hattie Morahan), he has travelled ever forward across the universe.
But now it's time to pause and go back. Back before the Time War... before Dark Eyes, and Lucie Miller... to an unexplored era of the Doctor's life, and a time when he met Lady Audacity Montague.
Jaye Griffiths joins as the Doctor's latest companion, and said: "I love her. She is slow to judge and self-sacrificing. And dutiful – it's not a word we use very often and perhaps we should take it up again. She has a sense of responsibility to the group, not just to herself. Maybe we should hear a bit more of that in the world, generally. She has a backbone."
Paul McGann added: "The prospect of the Eighth Doctor and Lady Audacity going off on their own adventures and getting up to mischief is quite thrilling. I think they get on great. And they sound great together as well. I am enjoying it."
Doctor Who – The Eighth Doctor Adventures: Audacity is now available to own for just £19.99 (collector's edition CD box set + download) or £16.99 (download only), exclusively here.
The exciting stories in this box set are as follows:
The Devouring by Lisa McMullin
Lady Audacity Montague – strong-minded and unconventional – has been gazing at the stars. But unfortunately for her – and everybody she knows – they've been staring back. She's made inadvertent, intergalactic eye contact with a malevolence known as The Devouring. Now it wants to consume her. But Audacity is already consumed. With rage.
The Great Cyber-War Part 1 by Tim Foley
The Great Cyber-War. Humanity and her allies versus the horror of the Cybermen. This is no place for the Doctor to take his new best friend. But on the Aurum, the war seems far away. There are parties and cupcakes and all the gold of Voga - and not a Cyberman to be seen...
The Great Cyber-War Part 2 by Tim Foley
The Cyber-War has come to the Aurum. The best hope of survival lies with the great Oberon Fix – the finest scientific mind of his generation, working to protect humanity. But the Doctor is worried that his own presence will affect history's outcome. And for Audacity, life with the Doctor will never be the same again...
Producer David Richardson said: "We may be stepping back into the Eighth Doctor's past but it all feels new again. We've got two contrasting tales that work perfectly side by side – the best platform to launch from.
"The chemistry was there before we recorded the first scene. Jaye and Paul were both in studio, and they were constantly laughing and firing off each other. I knew then that it was going to work beautifully."
Script editor Matt Fitton added: "It's always fun to create new companions, especially the type of person who will bounce off the Eighth Doctor in a different way to other companions, giving an alternative dynamic and feel to things.
"Audacity was always going to be from nobility and I liked the idea of a Regency era companion. I think it's fun to have someone who is an actual 'Lady' meeting someone who refers to himself as a Time Lord – and calling him out on that as well. Audacity is also more mature and won't stand for as much of the Doctor's nonsense as some of his more impressionable companions might!"
Big Finish listeners can save money by pre-ordering Doctor Who – The Eighth Doctor Adventures: Audacity along with December's In the Bleak Midwinter together in a bundle for just £38 (collector's edition CD box set + download) or £33 (download only).
All the above prices include the special pre-order discount and are subject to change after general release.
Please note that Big Finish is currently operating a digital-first release schedule. The mailout of collector's edition CDs will be delayed, but all purchases of this release unlock a digital copy that can be immediately downloaded or played on the Big Finish app from the release date.