For The Love Of StoriesBig Finish produce fantastic full-cast audio dramas for CD and download.
Shilling & Sixpence interview
29 September 2018
Today we talk with Nigel Fairs, creator, producer and writer behind the latest of our Big Finish Originals, Shilling & Sixpence Investigate. We chat about bringing David Warner and Celia Imrie onboard, the impressive multi-rolling cast and adapting the plays for audio.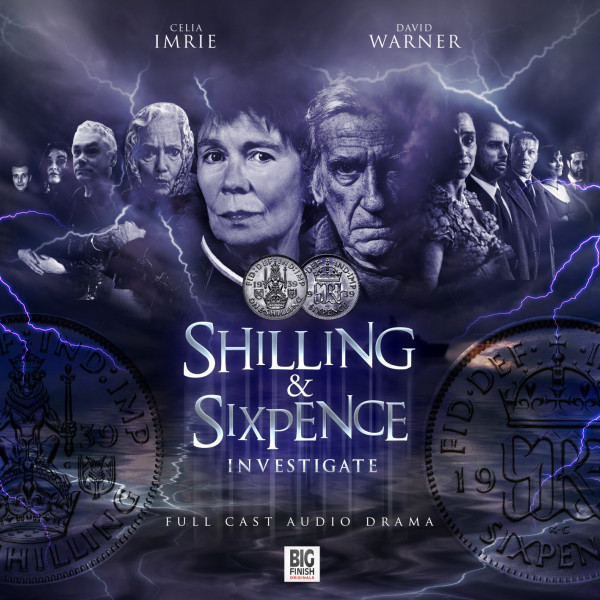 Big Finish (BF): To plunge straight into the world of Shilling & Sixpence Investigate, how was the recording?
Nigel Fairs (NF): The recording was amazing. It's an audio adaptation of my theatre company's monthly "murder soap opera" that has been going strong for over twenty years. There were actors from the theatre company – Abi, Max, Radley, Beckie and myself - along with the brilliant David Warner, Celia Imrie, Louise Jameson, Matthew Waterhouse and Lisa Bowerman.
We were really used to the world of Morlington Hill, but our "guest cast" took to it immediately and we had four blissful days in studio.
As the recording was close to Christmas, the cast weren't all available on the same days, so we had to record some scenes several times over - the post production was very complicated. Thank goodness I wasn't directing it! That was the very talented Samuel Clemens. His mind is perfectly ordered and he was well prepared for that scenario!
BF: Morlington Hill, the location for Shilling & Sixpence, has evolved over time. How would you describe it?
NF: It's rather like Miss Marple's village, St Mary Meade, meets The League of Gentlemen's Royston Vasey, with a pinch of Midsomer Murders!
BF: And of course as a small town it has a stock of regular recurring characters and visitors, that Matthew Waterhouse and Louise Jameson both play.
NF: Yes, the particular story arc that we chose for Shilling & Sixpence was centred on one family that were originally called the Pollocks but we renamed them the Plucks for this audio version. Matthew plays Viscount Robert who in the first series is one of the minor characters but will be involved in the next part of the story to a greater degree, so we have a great actor already in place for that…
BF: Of course, Matthew is incredibly talented. Often people think of him as only playing Adric but he's phenomenal in Dark Shadows.
NF: And we (myself and Matthew) can recreate the Thunderbirds theme exactly, and often do!
BF: Were the audio scripts easy to adapt as you essentially already had them… ?
NF: Not exactly… I thought adapting the scripts from the theatre shows would be easy but it really wasn't. The stage versions are a couple of hours long each episode, and are far more tongue-in-cheek – think 'Carry on Murder' with plenty of double-entendres. The plot is serious but its delivery is risqué. Inevitably the audio version required a full rewrite, the only thing similar was the story arc which ended on episode six, after which I brought it to its, very dark, natural conclusion.
The audio version goes from a very light, colourful Miss Marple style romp to an intense character study at the end and it's great to have seasoned actors handle that journey. Although there are moments of light, there are also moments of character, darkness and tears.
BF: And your acting team are fantastic at conveying that dichotomy. Comedy to tragedy.
NF: That particular style of acting is different and not a lot of actors, even good actors, can do it.
BF: And make that change believable. We've had such variety in all the Big Finish Originals so far, and Shilling & Sixpence Investigate conveys so many emotions… How did David Warner and Celia Imrie find it?
NF: They were completely in awe of the team being able to do so many different voices, varying in age and style. Both Shilling and Sixpence are new to the universe and they come to the world afresh. And of course they see the world in very different ways, Mr Shilling coming from teaching a boys' school and Miss Sixpence seeing the world through the prism as headmistress in a girls' school – together they make a smashing crime solving duo! They fully understand the world through the eyes of the school...
BF: As Miss Marple does! Seeing the world through different eyes and noticing things others wouldn't...
NF: And fully understanding the criminal mind. One of my favourite things, we have the two regular characters from my 'soap' – the Inspector and his sergeant trying the solve the crime – getting it wrong, and these two school teachers are getting it right. And it's a wonderful dynamic.
BF: So how did casting Shilling & Sixpence Investigate go?
NF: Part of the pitch was ensuring my core team of five were cast to play all the different parts. For the titular characters leading the way, I asked David first and he said yes straight away, no need to send him a script, because we enjoyed working together so much on Sapphire and Steele, his first Big Finish job, and we've kept in contact but not worked together since.
And Celia said yes because David was doing it! To Celia's generation of actors, David 'is' Hamlet, so people always say yes to working with him, he's very well respected in the theatre. Celia and David had done a playreading in the Royal Court together, but this was their first chance to properly work together.
And the first scene they did was joyful. They both didn't know quite how they were going to play it, and one of the team suggested that Celia come in at such a pace that she doesn't let David say a word so in that first scene David gets through maybe only half of his lines… and it was so funny that it set their relationship up for the rest of the series. And gradually they settle and slow down with each other, and you see a relationship build between them, much like it built in studio. It was so lovely.
BF: It's great to have that. At Big Finish quite often in productions the relationships are pre-established or fit with television continuity or previous novels, so it's brilliant that we could build one organically in studio and play with it afresh.
NF: Exactly, as they are new characters, they've both definitely made their mark.
More from this interview will follow in the coming weeks!
Shilling & Sixpence Investigate is available as part of the Big Finish Originals range, a new wave of original drama launched to celebrate 20 years of award-winning audio publishing. The eight-episode series will be available on download (only) from Big Finish in September 2018 at a pre-order price of £17.
The complete Big Finish Originals range is also available in a pre-order Originals bundle for £135, as well as being available as individual downloads.
Why not listen to a free extract of episode one The Missing Year by adding it to your shopping basket.
And keep checking the Big Finish website for more information on the other forthcoming Big Finish Originals.