Shilling & Sixpence Investigate: The Missing Year (Excerpt)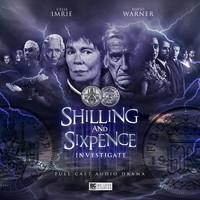 Released September 2018
Synopsis
This free excerpt comes from the September 2018 release of Sixpence & Shilling Investigate, a full-cast release part of the Big Finish Originals range
1. The Missing Year by Nigel Fairs
February 1939. Desmund Shilling arrives in Morlington Hill, deep in the heart of Cornwall, having been given the post of Head of English at Morlington School for Girls by the hearty headmistress Lavinia Sixpence.
Not far away, at Boothby Hall, Inspector Cribbage and Sergeant Salt are investigating the horrific murder of Lord Pluck - who is to blame? His grieving widow, Lady Penelope? His impetuous son, Viscount Robert? The no-nonsense cook or the handsome young school caretaker Joseph?
Miss Sixpence and Mr Shilling mount their own investigation, and very soon, horrible truths come to light…
Written By: Nigel Fairs
Directed By: Samuel Clemens
Cast
Celia Imrie (Miss Lavinia Sixpence), David Warner (Desmund Shilling), Louise Jameson (Mrs Levi), Abi Harris (Lady Penelope), Matthew Waterhouse (Viscount Robert), Samuel Clemens (Lord Pluck), Nigel Fairs (Inspector Cribbage / Neville Chamberlain), Max Day (Sergeant Salt). Other parts played by members of the cast.
Producer: Nigel Fairs
Executive Producers: Jason Haigh-Ellery and Nicholas Briggs