For The Love Of StoriesBig Finish produce fantastic full-cast audio dramas for CD and download.
Sixth Doctor and Peri box set
20 August 2019
Four new adventures featuring the Sixth Doctor and Peri Brown are coming in August 2020, set after the 1986 tv story "Trial of a Time Lord" and the Big Finish adventure "The Rani Elite".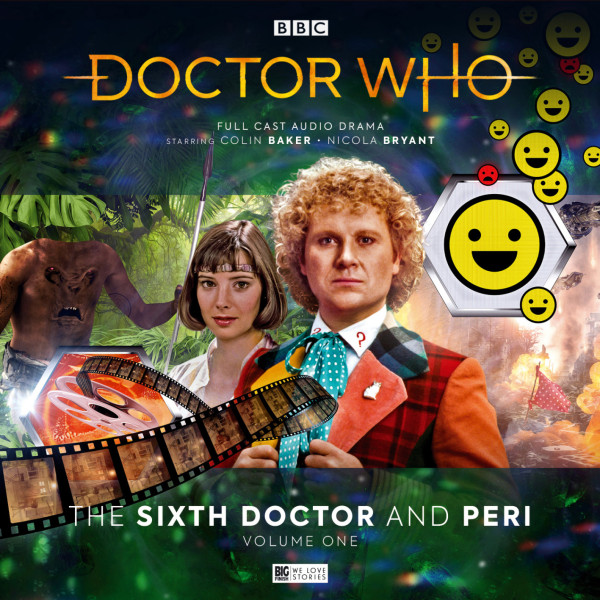 Scott Handcock (producer/director) told us more: "Ever since the Sixth Doctor and Peri were reunited in The Widow's Assassin back in 2014, listeners have wanted a continuation of their post-Trial of a Time Lord adventures together. And so now, to commemorate twenty years of Doctor Who at Big Finish, they're getting a new collection of stories spanning the cosmos. We travel to nineteenth-century Africa, futuristic Earth colonies and a 1970s film studios plus we meet the ultimate Doctor/companion relationship counsellor in Sigmund Freud!"
1. The Headless Ones by James Parsons & Andrew Stirling-Brown
When a distress call from an unknown source threatens to rip the TARDIS from the vortex, the Doctor and Peri arrive in nineteenth-century Africa hoping to find the cause of the disturbance. Instead, they meet a British expedition searching for a long lost tribe: the B'lemyae… better known to the locals as 'the Headless Ones'.
2. Like by Jacqueline Rayner
On the Earth colony world Rusina, the populace strive to be popular. Likes lead to promotion, dislikes lead to demotion – and more recently, something worse. So when the Doctor investigates the truth behind their subscriber-led society, he finds himself about to become very unpopular indeed.
3. The Vanity Trap by Stuart Manning
Myrna Kendal used to be a Hollywood film star. Now she spends her life reminiscing on chat shows but there is always one unfinished film she refuses to talk about… at least until the TARDIS interrupts a TV interview, and the Doctor and Peri's appearance stirs up long-forgotten memories.
4. Conflict Theory by Nev Fountain
Concerned by the Doctor's increasing over-protectiveness, Peri presents him with an ultimatum: either they seek counselling or she leaves the TARDIS permanently. Reluctant to lose one of his closest friends, the Doctor seeks out one of the finest psychoanalysts in the universe: Dr Sigmund Freud.
Nicola Bryant who plays Peri Brown told us more: "Because of the journey that Big Finish have given them, both together and individually, we've been lucky enough to expand them into these amazing new people. If everything had stayed in some kind of stasis where we were stuck with exactly what we did on television, then I think the audience might have disappeared. But it just seems that we've been given such great journeys, and I love coming back to this Doctor/companion."
Doctor Who - The Sixth Doctor and Peri Volume 1 will be released in August 2020, and can now be pre-ordered as a CD box set for £24.99 or on download at £19.99 from Big Finish.