We love StoriesBig Finish produce great full-cast audio drama for CD and download, featuring many popular television fantasy series.
14 August 2019
In the second of our Sixth Doctor and Peri trilogy, the Doctor faces his old adversary in an adventure that sees the Daleks relying on others to do their dirty work…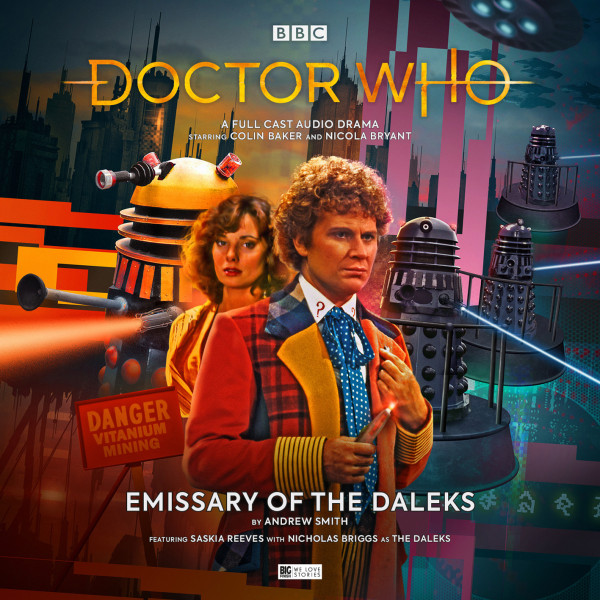 Doctor Who: Emissary of the Daleks is out now.
On the planet Omnia, a young man leads the Doctor and Peri through the battle-scarred ruins of a city. Among the rubble he shows them proof that their invaders and new masters, thought to be invincible, can be defeated. The proof is the blasted, burnt-out remains of a Dalek.
But this is a Dalek-occupied world like few others. For one thing, there are few Daleks to be seen. And for another, the Daleks have appointed an Omnian, Magister Carmen Rega, to govern the planet as their emissary.
Why are the Daleks not present in force? And can the Doctor and Peri risk helping the Omnians, when the least show of resistance will be met with devastating reprisals from space?
Writer of this story, Andrew Smith, told us more about the Sixth Doctor taking on the Daleks: "I was delighted when producer, John Ainsworth, asked me to write a Dalek story for Colin Baker and Nicola Bryant for The Monthly Adventures range. It seemed like a natural successor to my last Monthly Adventures script, Hour of the Cybermen, which had Ol' Sixie pitched against his other arch enemies from way back.
"So I envisaged a world taken over by the Daleks with one of these emissaries in charge. An emissary with the principle objective of ensuring there's no dissent. Because if there is, the Dalek reprisal will be terrible. And what would the Doctor and Peri do, coming into this setup? Would the Doctor want – or be able – to quell his usual instinct to foment rebellion and overturn Dalek rule?"
Doctor Who: Emissary of the Daleks is available now at £14.99 on CD or £12.99 on download. All CD purchases unlock a download option via the Big Finish app and the Big Finish website.
Or why not save money by getting a subscription to Doctor Who: The Monthly Adventures. When you subscribe you'll get 30% off the price, free specially recorded Short Trips stories, PDFs of the scripts, and extended downloadable extras. You can subscribe for either 6 or 12 releases.
Coming out in September 2019, the Sixth Doctor and Peri have an old friend to meet in Harry Houdini's War…
The world is at war, and Harry Houdini wants to fight for his adoptive country. He might get the chance, when an old friend crashes his New York show.
The Doctor is on the trail of a Central Powers spy ring, which has somehow acquired unearthly technology. But he is also keeping a dangerous secret…
Finding himself on the run behind enemy lines, the world's greatest escape artist has to work out who he can trust – and fast.
Also in September, we start a new trilogy of Fifth Doctor adventures, and the Doctor meets his hero, Cicero! You can pre-order Tartarus now.
63BC. Following the overthrow of Catiline, Cicero and his wife retire to the coastal town of Cumae, safe from the threats of Rome.
But when a stranger and his companions arrive at Cicero's villa, new dangers lie in wait and Cicero finds himself plunged into a realm of gods and monsters.
His only hope of returning home lies with a man known as the Doctor. But can Cicero trust him?