We love StoriesBig Finish produce great full-cast audio drama for CD and download, featuring many popular television fantasy series.
22 October 2021
Celebrating 15 years since the very first episode of Torchwood was broadcast on BBC Three in 2006, the latest monthly audio adventure teams up Ianto Jones, a Sontaran and... a cat.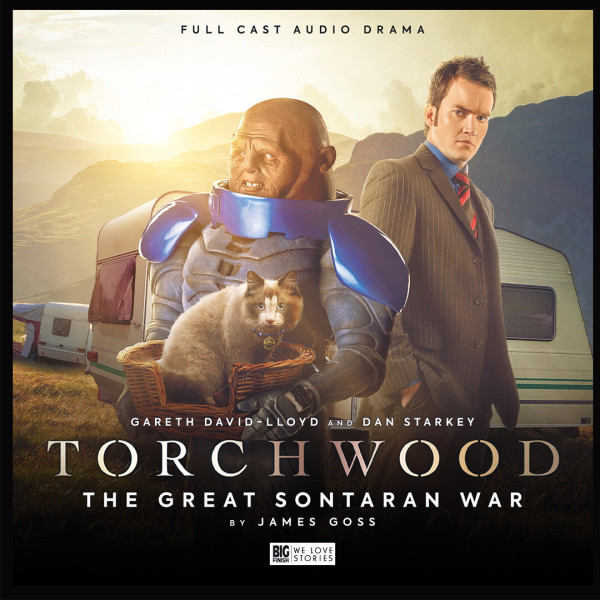 "The Great Sontaran War is yet another peak in Torchwood's vertiginous range, and might just be one of the best Doctor Who stories ever produced – even without the Doctor." – Doctor Who Magazine
Torchwood – a clandestine organisation outside the government, beyond the police. An elite team of operatives defending Cardiff and the world from alien menaces and terrible forces, keeping the city safe from the interdimensional rift that runs through it.
Since 2015, Torchwood's home has been on audio, with monthly adventures for the familiar Cardiff team, plus the official continuation series, Aliens Among Us and God Among Us, and historical spin-offs Torchwood One and Torchwood Soho.
Gareth David-Lloyd and Dan Starkey star in this month's brand new full-cast audio drama from Big Finish Productions, released to mark exactly 15 years to the day since the debut of the Torchwood television series.
Torchwood: The Great Sontaran War is now available as a collector's edition CD at £10.99 or on download at £8.99, exclusively HERE.
The Great Sontaran War has raged across the cosmos for millennia and finally it is coming to the Earth.
Major Kreg has been dispatched to carry out a strategic assessment of the planet. He will learn about the dominant life form, decide what the world has to offer, and discover the ultimate value of the human race.
For Torchwood, there is only one place to put him. Welcome to the Mumbles Bay Caravan Park.
Actor Dan Starkey said: "Major Kreg is not dissimilar to the other Sontarans I have played. He's a bit of a fish out of water. Ianto Jones is helping him adjust to this new reality as he ingratiates himself – or doesn't – with the denizens of his new home."
Gareth David-Lloyd added: "My holidays primarily consisted of caravans when I was younger. I've got quite a lot of fond memories, actually. This is slightly different. But it is a caravan park I wouldn't mind visiting."
Torchwood: The Great Sontaran War is now available as a collector's edition CD at £10.99 or on download at £8.99, exclusively HERE.
Listeners of the monthly Big Finish Torchwood range can save money by pre-ordering a bundle of stories. A six-release bundle is £60 on CD or £50 on download – or save even more money by ordering all twelve of the latest Torchwood releases together at £110 on CD or £94 on download.
Big Finish is currently operating a digital-first release schedule. The mail-out of collector's edition CDs may be delayed due to factors beyond our control, but all purchases of this release unlock a digital copy that can be immediately downloaded or played on the Big Finish app from the release date.