We love StoriesBig Finish produce great full-cast audio drama for CD and download, featuring many popular television fantasy series.
Survivors Series 8 out now
18 December 2018
Four new battles for survival from the world of Terry Nation's cult-classic series have been released. Based on the cult 1970's drama, four new adventures in Survivors Series Eight are out now.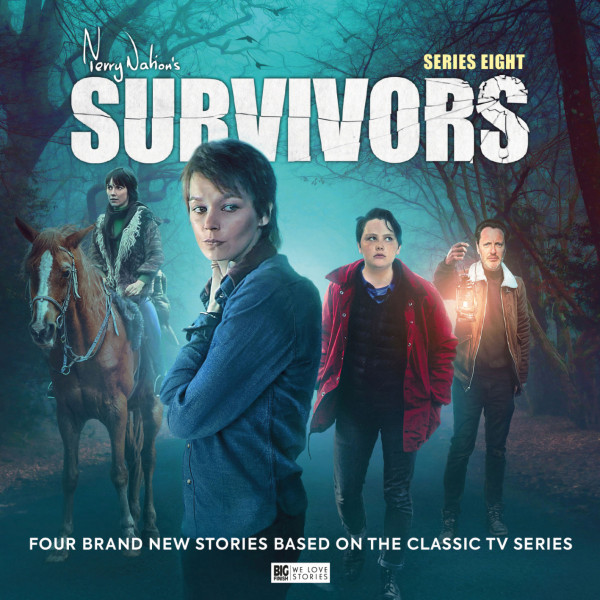 Survivors is based on an original concept and characters from the 1975 television series by Terry Nation (creator of the Daleks and Blake's 7). The show ran for three seasons and was known to be as thought-provoking and character-driven as it was terrifying.
The world has ended. The 'Death' pandemic crossed continents, sparing only a fraction of the global population.
The survivors are now trying to pick up the pieces and rebuild society – to create a new future.
But with no cities, no laws, no technology, everyone must start over. And the worst of human nature has survived along with the best…
8.1 Bandit Train by Christopher Hatherall
Society is slowly rebuilding. Abby and Jenny are transporting supplies between settlements. Craig is learning how to run the steam engines on lines cleared by Greg Preston. But there are still those who just want to take. And their train is about to come under attack…
8.2 Robert by Jane Slavin
Once, Robert Malcolm had a complicated life. His wife in an institution, his girlfriend running a struggling business, he was out of the army and without a place in the world. When the Death came, it meant many things to many people. For Robert, it meant freedom.
8.3 The Lost Boys by Lisa McMullin
Peter Grant is alive. He is with Robert Malcolm's army of boy soldiers, learning to survive. Building a better future.
But medic Ruth has her suspicions when she visits the camp. And Craig is about to find out what it takes to become a recruit.
8.4 Village of Dust by Roland Moore
Abby, still desperate for the reunion she's been seeking for years, now knows that Peter is part of an army.
Meanwhile, Jenny realises that someone is drawing plans against her budding Federation. A war is coming, and mother and son are on different sides.
Producer, David Richardson, told us more in October's edition of Vortex Magazine: "Listeners may have noticed that in the last box set our final episode edged past the end of the 1970s TV series, with Abby Grant and Jenny Richards reunited. Our eighth box set – and also the ninth – will continue that move forward, with eight linked episodes that see the return of Peter Grant, and the rise of a new threat to the community." Read more about it in Vortex, here.
You can get Survivors Series Eight today at £25 on CD or £20 on download. Or save money in a bundle and pre-order Series Eight and Nine together at £50 on CD or £40 on download.
And don't forget to read yesterday's news about the future of Survivors, and series nine.
Four struggles for the survivors of the Death will be released in June 2019:
9.1 – The Farm by Jane Slavin
9.2 – Hearts and Mines by Christopher Hatherall
9.3 – Fade Out by Roland Moore
9.4 – Conflict by Andrew Smith