We love StoriesBig Finish produce great full-cast audio drama for CD and download, featuring many popular television fantasy series.
Tenth Doctor and Donna return
16 May 2019
David Tennant and Catherine Tate reprise their roles as the Tenth Doctor and Donna Noble for three more Doctor Who audio adventures in The Tenth Doctor Adventures Volume Three. And this time, they're taking the family with them…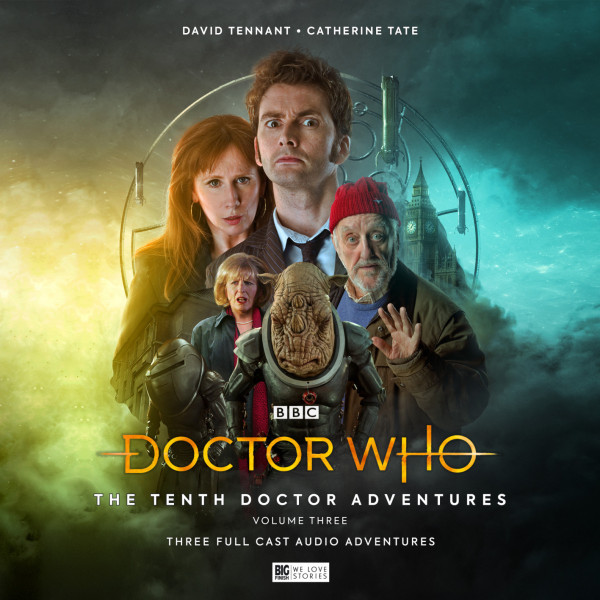 In this third box set of Tenth Doctor adventures we'll pop back into history where menacing threats lurk in London's smog in an entrancing 1950s tale by Roy Gill. We'll explore dangerous underwater worlds with the Judoon in a thriller by Jenny T Colgan, and James Goss takes the Doctor, Donna and her family on their most treacherous journey yet... into the horrifying world of reality television!
3.1 No Place by James Goss
It's Haunted Makeovers! The home improvement show with a spooky twist.
The Noble family are hoping to cast out a few spirits along with the old bathroom suite, as presenter Justin joins Donna, Wilf, Sylvia and the Doctor for the latest edition of his reality TV series.
Of course, Justin knows that any supernatural phenomena can be faked. Ghosts can't possibly be real.
Can they...?
3.2 One Mile Down by Jenny T Colgan
Donna and the Doctor take a holiday – in the beautiful underwater city of Vallarasee.
Things have changed since the Doctor last swam through it: Vallarasee is now enclosed inside an airdome. Judoon patrol historic sites, and instead of tourists wearing helmets to breathe, the native Fins are forced to adapt.
But leaks have begun to trickle into the dome, and the Doctor and Donna must convince the Judoon that disaster is imminent. Or else thousands will be trapped, as the waters rise…
3.3 The Creeping Death by Roy Gill
London, 1952, and a deadly smog envelops the capital. But something even more dangerous – and alien – is hiding within the mists.
When the Doctor and Donna get lost in the fog, they find a motley group of Londoners trying to make their way home.
Soon the stakes are raised, as death creeps along fume-choked streets, and not everyone will make it out alive...
"Three box sets in and my excitement about working on The Tenth Doctor Adventures is as strong as ever," says producer David Richardson. "When we first started thinking about this new set of stories I emailed Russell T Davies to ask about including Sylvia Noble. He suggested we should try for Wilf Mott too – it had never occurred to me that we might be able to get actor Bernard Cribbins involved. But a call to Bernard's agent revealed how delighted he was by the prospect, and there we had it – the Noble family together again, nine years after they last appeared on TV."
Doctor Who – The Tenth Doctor Adventures Volume Three (Limited Edition) is available now.
This five-disc collector's edition – limited to 5,000 copies – is available on CD in deluxe bookset packaging for a pre-release price of £35, with the download version for £25. Included with the limited edition CD release, Doctor Who and Blake's 7 costume designer June Hudson has created costumes for some of the creatures and aliens, and writer and SFX specialist Mike Tucker has created fantastic storyboards. With additional behind-the-scenes interviews from some of the cast and crew, including a one-hour special "David Tennant at Big Finish", this limited edition makes for an unmissable audio package.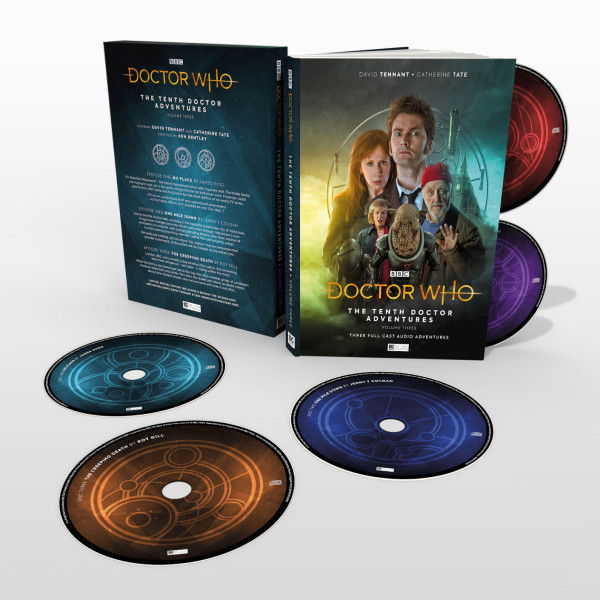 The three episodes, No Place, One Mile Down and The Creeping Death can also be bought individually for £8.99 on download and £10.99 on CD.
Or why not save more money and buy all three individual CDs together in a bundle for just £22 on download and £25 on CD.
And for fans of the Tenth Doctor, don't forget that Volume Two of The Tenth Doctor Adventures features the Tenth Doctor and Rose Tyler (played by Billie Piper) in three cracking adventures.
Billie Piper also reprises her role as Rose in her own Big Finish series, Rose Tyler: The Dimension Cannon, out for release this September.