For The Love Of StoriesBig Finish produce fantastic full-cast audio dramas for CD and download.
The Avengers - Steed and Tara King
26 February 2019
The Avengers have more cases to solve! The next volume of The Avengers - The Comic Strip Adaptations - sees John Steed (Julian Wadham) reunited with Tara King (Emily Woodward) in four new assignments.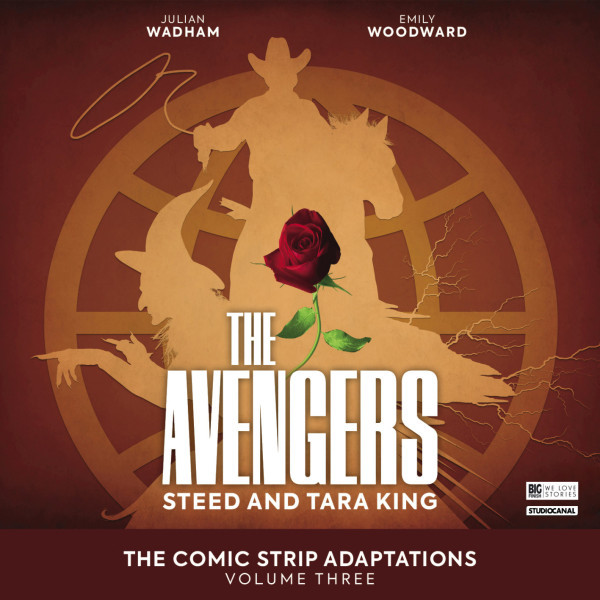 The Avengers: The Comic Strip Adaptations Volume 3 with Steed and Tara King is out now.
1. It's a Wild, Wild, Wild, Wild West by John Dorney
Steed is quick on the draw, Tara gallops away.
After reports suggest a series of robberies in the New Forest were committed by cowboys, Mother sends the Avengers into action. The trail leads to the Western style ranch known as The Lazy J. But will it be high noon for Steed and King?
2. Under the Weather by Phil Mulryne
Steed is put on ice, Tara is blown away.
Steed, Tara and Mother visit an air show to see a demonstration of a new aircraft. But the plane is stolen from under their noses... and seemingly... by a storm! Something strange is in the air. And it needs the Avengers to sort it out.
3. Spycraft by Robert Khan and Tom Salinsky
Steed meets his equal, Tara gets the cream.
When a visiting dignitary is kidnapped on British soil, Steed and King have to leap into action. But with questions of diplomatic immunity getting in the way, they may need help from an unusual pair.
4. ...Now You Don't by John Dorney
Steed finds things get tricky, Tara takes the stage.
A strange gift leads to Steed and Tara King spending a night in the theatre. But who brought them there? And why? An old enemy of the Avengers is on the scene. And he will stop at nothing to get his revenge!
Script editor, John Dorney, explains more about these ongoing adventures: "This batch of stories are as colourful and crazy as Avengerland gets! Cowboys at large in the New Forest, weather-controlling scientists, unusual coups and vengeful magicians all get a look in against Steed and Miss King (working under the ever watchful eye of Mother). If they're even half as fun to listen to as they were to make, you'll have a blast!"
This release also has additional extras, including interviews, available for download as supplementary content from the Big Finish site.
The Avengers: The Comic Strip Adaptations Volume Three is available now at £30 for the CD box set or £25 on download. Or why not save money by ordering Volume Three in a bundle with Volumes Four and Five of The Comic Strip Adaptations.
The Comic Strips Adaptations Volume Four with Steed and Emma Peel will be released in 2020, and The Comic Strips Adaptations Volume Five with Steed and Tara King will be released in 2021. This bundle is available for £87 on CD or £70 on download from Big Finish.
If you've yet to enter the world of the Avengers, you can try an extract from It's a Wild, Wild, Wild, Wild West by subscribing to the Big Finish email newsletter.