For The Love Of StoriesBig Finish produce fantastic full-cast audio dramas for CD and download.
The Avengers - Too Many Targets
20 September 2018
Too Many Targets, the latest story in The Avengers audio adventures is here. Adapted for audio from the novel by John Peel and Dave Rogers, all the Avengers are needed to solve a series of strange murders. Yes - all of the Avengers!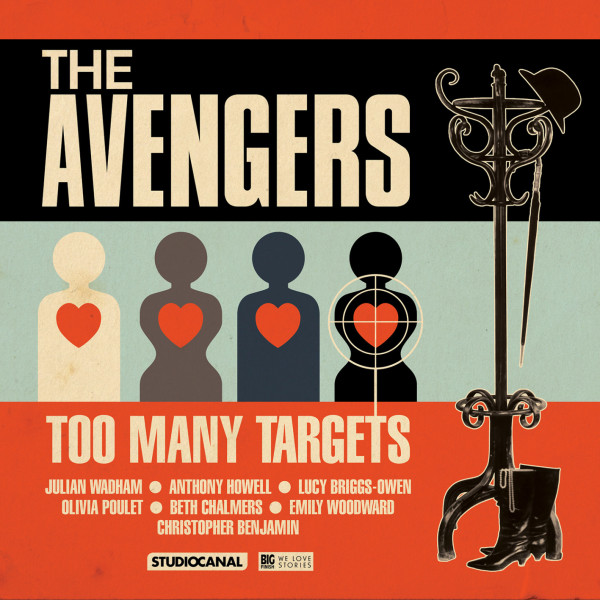 The Avengers – Too Many Targets is out now.
Two agents are dead, and their murderers sound worryingly familiar. A killer gorilla is on the loose, a deadly disease is ravaging a distant country and an eminent Doctor has been kidnapped. It's all pretty much business as usual.
But when John Steed is called in by his old boss and given an appalling task to complete at the same time as Tara is given one that's even worse, it becomes clear that the myriad threads of a terrifying scheme are drawing together.
The fate of the world hangs in the balance. Steed won't be able to handle this case alone. The Avengers are needed. All of them.
"Well how lovely to be back in Avengerland," says writer and adapter John Dorney. "It's always been a delight to write for Steed, Keel and Peel so to come back to them and throw Cathy Gale and Tara King into the mix was a complete joy. Too Many Targets is a gorgeous romp of a novel, a smorgasbord of magnificent treats celebrating the complete run of the show that it was my immense pleasure to discover and adapt."
"Too Many Targets is the ultimate celebration of The Avengers," says producer David Richardson, "bringing John Steed together with all of his colleagues from the original 1960s TV series. John Peel and Dave Rogers's original novel is a rollercoaster ride, and John Dorney's adaptation includes all of the sheer joy and love of the series. It's impossible to listen to this production without having a huge nostalgic smile on your face.
"And we're delighted to introduce three more actors to The Avengers world – Beth Chalmers (Apple Tree Yard, Pat and Cabbage, Miranda) as Cathy Gale, Emily Woodward (Heroes and Villains, The Lock-In, Doctors) as Tara King, and Christopher Benjamin (Doctor Who, Jago & Litefoot, Pride and Prejudice) as Mother. Each of them was our first and only choice for the roles so we were delighted that they all came on board. For Christopher, it's a return to the series having guest starred in three TV episodes: How to Succeed… at Murder, Never, Never Say Die, and Split."
This two-disc release is out now on CD at £14.99 or on download at £12.99. All CD purchases unlock a digital download on the Big Finish app.
You can find out more about The Avengers: Too Many Targets in last month's Vortex Magazine which is free digitally from the Big Finish website and/or free in print with every purchase.
If you're new to the world of The Avengers, why not try Steed and Mrs Peel – The Comic Strips starring Julian Wadham, and Olivia Poulet? These adventures are based on the comic strip adventures of Steed and Mrs Peel which appeared in Diana magazine in 1966 and 1967.
Or you could try The Avengers: The Lost Episodes. 19 television episodes which no longer exist from series one of The Avengers have been brought back to life by Big Finish. The Lost Episodes recreate the existing scripts on audio using a full cast of actors.