For The Love Of StoriesBig Finish produce fantastic full-cast audio dramas for CD and download.
The Eighth Doctor and Lucie Collection
3 October 2023
Enjoy the acclaimed first series of Doctor Who adventures for the Eighth Doctor and Lucie Miller as a single collected download, released today by Big Finish Productions.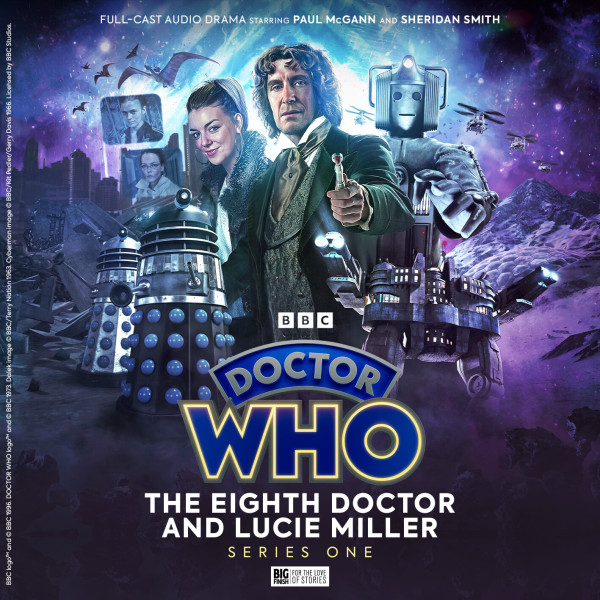 In 2007, a brand-new series of full-cast audio dramas began for the Eighth Doctor (Paul McGann) and his companion Lucie Miller (Sheridan Smith). Over eight hour-long stories, this well-received TARDIS team encountered Cybermen, Daleks and a whole host of other alien threats.
Originally broadcast on BBC Radio as part of "the 7th Dimension" slot, the series' impressive cast featured many familiar names, including Anita Dobson, Kenneth Cranham, Hayley Atwell, Bernard Cribbins, Una Stubbs, Stephen Gately, Ian McNeice, Elspet Gray, Timothy West, Nerys Hughes and Roy Marsden.
A newly-repackaged collection of these eight previously-released adventures, Doctor Who – The Eighth Doctor and Lucie Miller: Series One, is now available to own, exclusively here.
Early-bird discount: for a limited time, this new collection can be purchased at the low early-bird discount price of £22.99 (digital download only). Please note: from 01 November 2023, the standard RRP of £29.99 will apply.
Series producer Nicholas Briggs said: "I remember working on these adventures as a glorious time. I started producing them before I became executive producer and struck up a great working relationship with Barnaby Edwards, who directed and became our casting director, and Alan Barnes who invented Lucie Miller. Then there was Sheridan Smith, who, among many other hopefuls, gave an outstanding audition in the role. And when we put her together with Paul McGann, something very special happened and the adventure began!"
Without warning and much to the Doctor's surprise, a young woman from 21st century Earth called Lucie Miller appears in the TARDIS control room. When he asks her where she comes from and tries to return her to the north of England in 2006, the TARDIS cannot make the journey. There is a temporal shield in place that prevents the ship from materialising and sends it off course to the planet of Red Rocket Rising.
An excellent jumping-on point for new listeners, the eight adventures in this Doctor Who audio collection are as follows:
Blood of the Daleks (Part One) by Steve Lyons
"People of Red Rocket Rising, my fellow citizens. Our long night is over. I've been contacted by a benevolent people. They too have known great trials, but they have overcome them and made it their mission to help others do the same. They have offered us refuge, and passage to the nearest human worlds. They have the resources, and the patience and compassion, to evacuate every one of us. My fellow citizens, my friends, rescue is at hand!"
Blood of the Daleks (Part Two) by Steve Lyons
"The crashed ship. The one Tom Cardwell saw all those years ago. And you borrowed its technology, didn't you? Maybe even found a Dalek or two in the wreckage. Dead, but intact. And you began to turn human beings into creatures like them. You did that? I'm right, aren't I?"
The Horror of Glam Rock by Paul Magrs
The Doctor and Lucie go glam when the TARDIS makes an unexpected landing in 1974. Slade, The Sweet and Suzi Quatro are Top of the Pops – and brother-and-sister duo The Tomorrow Twins will soon be joining them, if the starmaking Svengali Arnold Korns has his way.
But will their dreams turn to dust at a service station somewhere on the M62, besieged by a pack of alien monsters?
Immortal Beloved by Jonathan Clements
"Theosophy? Ha! Surely you mean theophany? Because we're not talking about real gods here, are we? We're talking about the appearance of gods. Your heavenly powers are a little too mechanical for my liking. And, if I may be so bold, Lord Zeus, your demeanor is not very godlike."
Phobos by Eddie Robson
The TARDIS lands on Phobos, moon of Mars - where extreme sports nuts of the future indulge their passion for gravity-boarding and wormhole-jumping. But there's something lurking in the shadows, something infinitely old and infinitely dangerous. It's not for nothing that 'Phobos' is the ancient word for 'fear'…
No More Lies by Paul Sutton
What links a disintegrating spaceship to a posh garden party, where a wealthy couple are celebrating their love for each other in style? Gatecrashers the Doctor and Lucie think they know the answer. But they're not the only uninvited guests - ferocious alien warriors riding pterodactyl-like Vortisaurs are about to make their entrance!
Human Resources (Part One) by Eddie Robson
Lucie Miller's been headhunted to join the staff of Hulbert Logistics, a respectable blue-chip firm in Telford. Great prospects, competitive salary – you don't have to be mad to work here! But wasn't she made for better things, like travelling by TARDIS through time and space? The Doctor, meanwhile, has been fired – into a confrontation with the most terrifying of enemies...
Human Resources (Part Two) by Eddie Robson
Business as usual? Not at Hulbert Logistics, where staff are facing a menace far worse than the prospect of the office Christmas party. Lucie's made some new friends and the Doctor's met some old enemies. But just who will become the Headhunter's new apprentice? Welcome to the job interview from hell.
Praise for Doctor Who – The Eighth Doctor and Lucie Miller: Series One:
"An exceptionally strong group of stories..."
Who-Review

"The chemistry between Paul McGann and Sheridan Smith is through the roof."
Gallifrey Archive

"Paul McGann is amazing as the Doctor... Sheridan Smith plays a fantastic Lucie, making her every bit the hot-headed companion that's easy to love."
Fandomania
All the above prices include the special pre-order discount and are subject to change after general release.