For The Love Of StoriesBig Finish produce fantastic full-cast audio dramas for CD and download.
The end of an era - Blake's 7 Restoration Part 3
25 February 2020
The final part of the Restoration trilogy, released today, is a box set of four full-cast Blake's 7 stories which were recorded after the sad death of actor Paul Darrow in June 2019.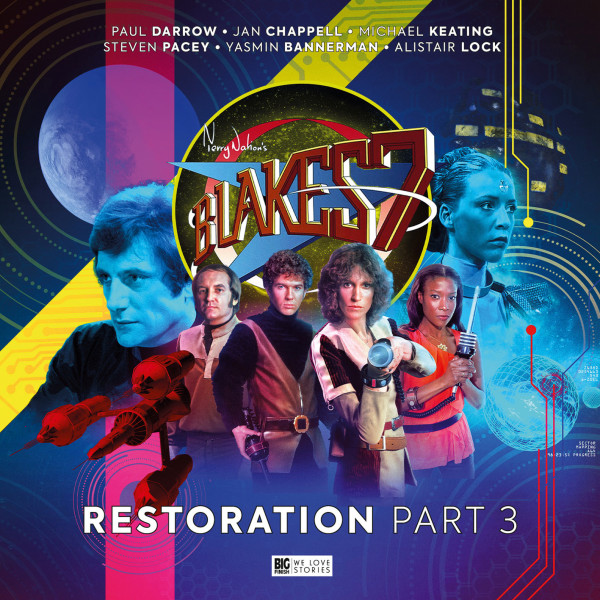 Since 2013, Big Finish has been producing Blake's 7: The Classic Adventures, starring the original cast of the BBC television series. With Restoration Part 3, the stories will end in their current form, as Avon, Vila, Tarrant, Cally and Dayna explore the galaxy and fight the tyrannical Federation in Terry Nation's epic space saga one last time.
Restoration Part 3 stars Paul Darrow, Michael Keating, Steven Pacey, Jan Chappell (all reprising their original roles) with Alistair Lock, Yasmin Bannerman and Evie Dawnay. Also returning is Sheila Ruskin, who portrays Alta-One, a humanoid servant of the System, last seen in the 1979 Blake's 7 episode, Redemption.
Blake's 7: Restoration Part 3 is now available to own as a five-disc CD collector's edition box set, for just £27.99, or as a digital download for just £24.99, from www.bigfinish.com.
The four stories in this arc-concluding box set are:
Parasite by Trevor Baxendale
Avon is missing, and Zen has taken control of the Liberator – but can the rest of the crew trust Selene's offer to help, and what is the secret of the doomed planet Tronis?
Failsafe by Steve Lyons
General Enton Mordekain is trapped underground, badly injured, with no memory of how he came to be there – and he's manacled to his worst enemy, Del Tarrant. He has to work out who he can trust – and fast.
Reunion by David Bryher
A secret lies buried on the prison planet Cygnus Alpha. The Quonar parasite wants it – and so does Zeera Vos. With the Liberator crew caught in the crossfire, Vila and Zeera must face the past if they have any hope of getting out alive...
Imperium by Trevor Baxendale
Fighting to save Zen –and prevent the President regaining total control – the crew of the Liberator must rescue Alta-One, the last survivor of the System, and discover the ultimate fate of Avon.
Big Finish's Blake's 7 Producer John Ainsworth said: "These final four adventures bring the Restoration trilogy to a climax, and with the loss of Avon the remaining crew of the Liberator find their relationships strained as they struggle to regain control of their ship.
"With the sad loss of Paul Darrow, producing this concluding box set has been an emotional ride for the cast and crew. Our goal has been to conclude the story in a satisfying way that honours Paul's memory, and remains true to the chronology and spirit of the TV series.
"There is definitely still a future for Blake's 7 at Big Finish. However, emulating the format of the TV series – which has always been the goal – is now no longer possible. We don't feel it would be appropriate to re-cast, and continuing the series without either Blake or Avon just isn't feasible. However, this is not to say that there will be no more full-cast adventures set in the Blake's 7 universe. It's early days yet, but we are devising a new format for the series that will allow the surviving cast members to appear in further adventures."
Blake's 7: Restoration Part 3 is now available to own as a five-disc collector's edition box set, for just £27.99, or as a digital download for just £24.99, from the Big Finish website. All CD purchases unlock a download option via the Big Finish app and the Big Finish website.
Big Finish listeners can save money by purchasing a bundle of all three parts of Blake's 7: Restoration from just £74 (as a digital download).
Watch The Story of Blake's 7... so far, narrated by Paul Darrow.