For The Love Of StoriesBig Finish produce fantastic full-cast audio dramas for CD and download.
The Listeners - Doctor Who: The Feast of Axos for just £2.99
1 February 2016
Wrap your tentacles around the return of a classic monster! Colin Baker, Maggie Stables and John Pickard star in a full-length adventure, available at a bargain price throughout February.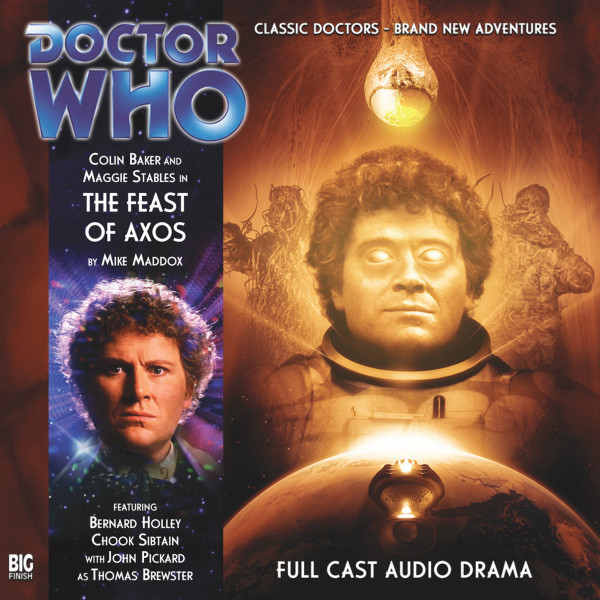 "Axos calling Earth. Fuel system exhausted. Request immediate assistance."
Many years ago, the vast space parasite Axos attempted to suck the planet Earth of its energy. Now it's all but forgotten – a dried-up husk, marooned in orbit, still stuck in the time loop it was placed in by Earth's defender, the Doctor.
Forgotten, that is, except by space tourism billionaire Campbell Irons – who's hatched a plan to solve the world's energy crisis by reviving Axos, and transmitting its power back to Earth. But the crew of the spaceship Windermere aren't alone aboard the parasite. The Doctor has returned, to correct an error of decades past…
And Axos is waiting.
Written by Mike Maddox, and featuring an all-star cast including Colin Baker, Maggie Stables, John Pickard, Bernard Holley, John Banks, Andrée Bernard, Chook Sibtain, Peter Forbes and Duncan Wisbey, Doctor Who: The Feast of Axos resurrects an all time classic Doctor Who monster, and is reduced all through February to celebrate the upcoming 45th anniversary since they slithered onto our screens.
You can download the story today for just £2.99 and discuss it with other listeners on Big Finish's Facebook page.
This release sees the Sixth Doctor joined by two companions – university professor Evelyn Smythe (played by the wonderful Maggie Stables) and the victorian orphan Thomas Brewster (John Pickard). You can enjoy Evelyn's first journey in the TARDIS in Doctor Who: The Marian Conspiracy and begin the tragic saga of Brewster in Doctor Who: The Haunting of Thomas Brewster.
For more from the Doctor Who Main Range, check our list of upcoming titles on the range page here – and subscribe to the series in 6 or 12 month blocks here.