For The Love Of StoriesBig Finish produce fantastic full-cast audio dramas for CD and download.
The Robots – unleashed today!
11 December 2019
Released today, The Robots Volume One is the first of a series based on the characters and the world of Kaldor created by Doctor Who writer and script editor, Chris Boucher.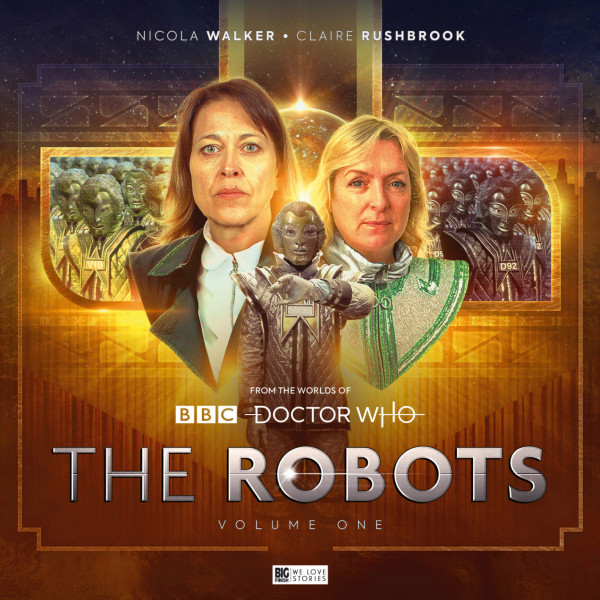 Starring Nicola Walker and Claire Rushbrook, this box set of three stories explore some new themes for characters originated in the Eighth Doctor Adventures.
The Robots Volume One is available now for £19.99 as a collector's edition CD box set or £16.99 as a download.
During the events of Doctor Who – Ravenous 2, Liv Chenka leaves the Doctor and the TARDIS behind. Just for one year. A year during which she will live on Kaldor and get to know her sister Tula all over again.
But Kaldor is going through a period of tumultuous change. Technology is changing at an advanced rate –the robots are evolving, artificial intelligence is adapting, and with these changes so politics is altering too. Dangerously.
Can Liv and Tula make a difference during the most turbulent time in the world's history?
Actor Nicola Walker summarised what this series brings to the worlds of Doctor Who: "We're with Liv Chenka and her sister Tula on her home planet. Kaldor has seen a rise in the use of artificial intelligence, and Tula is at the forefront of that. So what happens when human relations and AI collide?
"What is interesting is that, in the past when we talked about AI in sci-fi, it was a long way away. Now when we're talking about it in this imaginary world, it's not so far away in the real world, and it's not so incredible. So the future has got a whole lot closer."
Claire Rushbrook added: "I love it. It's full of pace. I think it's really exciting and it deals with a messy grey area with what people do when they're grieving –how desperate it is, and what desperate measures people can goto. And I just like the dynamic between Tula and Liv again. There is a tenderness and an exploration of emotions that we haven't heard in the more action-packed and scientific stories."
The Robots Volume One contains three thoughtful adventures:
1.1 The Robots of Life by Roland Moore
Settling into life back on Kaldor, Liv investigates a medical centre where the patients are dying.
1.2 The Sentient by Robert Whitelock
Vissey is a young child –the sort of perfect young girl any parents would want to adopt. She is also artificial, and she sees the world in a very different way to humans.
1.3 Love Me Not by John Dorney
A widower goes to extreme lengths to keep the memories of his dead wife alive.
The Robots Volume One is available now for £19.99 as a collector's edition CD box set or £16.99 as a download.
Save money with The Robots bundle of all four series for just £78 on CD or £66 on download. The Robots Volume Two is scheduled for release in June 2020, Volume Three in December 2020 and Volume Four in June 2021.