For The Love Of StoriesBig Finish produce fantastic full-cast audio dramas for CD and download.
The Third and Second Doctor UNIT-e!
8 February 2022
The Annihilators, an epic audio adventure, kick-starts a new era of The Third Doctor Adventures and marks Michael Troughton's debut as the Second Doctor at Big Finish today.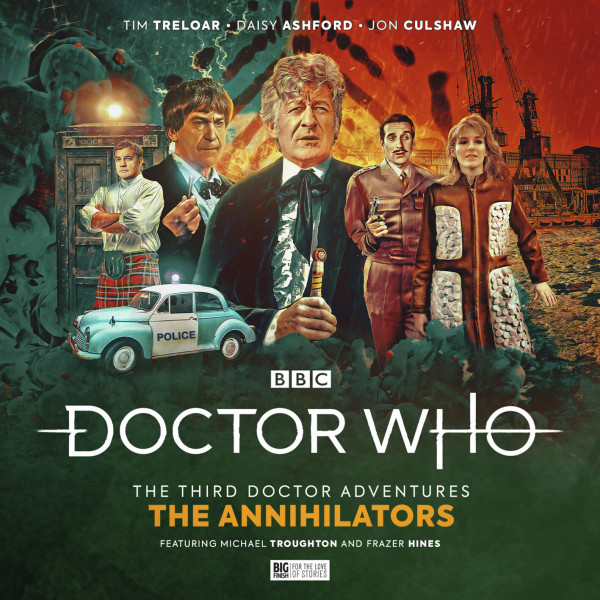 Double the excitement! Double the adventure! Double the danger! When Earth's defences face an extraordinary extra-terrestrial threat, it's going to take the combined forces of two Time Lords to save the human race from annihilation.

In this seven-part, full-cast audio drama, the Third Doctor (Tim Treloar) and his trusty allies, Brigadier Lethbridge-Stewart (Jon Culshaw) and Dr Liz Shaw (Daisy Ashford), investigate a murder while a series of natural disasters threaten to tear the Earth's surface apart.

But when the Second Doctor (Michael Troughton) and his companion Jamie McCrimmon (Frazer Hines) show up inexplicably, things get even more complicated – and more deadly – than anyone could possibly have imagined.
Doctor Who – The Third Doctor Adventures: The Annihilators is now available to own as a collector's edition CD (+ download for just £19.99) or digital download only (for just £16.99), exclusively here.
There's something in the water at Lewgate Docks. Something strange, and green, and deadly. Summoned to the North of England by a mystery informer, the Brigadier finds his investigations hampered at every turn by the local police. Just what are they trying to hide?
While the Doctor uncovers sinister goings-on in the city morgue, Liz attracts the attention of something unearthly. But with Time running out, quite literally, the Doctor, Liz and UNIT aren't the only ones to find themselves targeted by a world-shattering alien menace...
... because they've got a previous Doctor and his best friend Jamie in their sights, too!
Writer and director Nicholas Briggs said: "I think the most thrilling part of my job at Big Finish is trying to capture the spirit and feel of a particular era of Doctor Who that is special for me.

"For the structuring and pace of The Annihilators, I wanted to give it the feel of a police procedural. It's kind of Line of Duty 1970s style – with monsters!

"It's also a throw-forward to our new The Second Doctor Adventures range. I think it really brings a lovely interaction into the story and I wanted our listeners to get an early audio listen of Michael Troughton in his father's role. The Second Doctor Adventures don't start until August but I thought that was far too long for everyone to wait."
Tim Treloar added: "It's a wonderfully-written script that contains many a red herring and many a twist. A seven-part story is rare in the Doctor Who world. It's new territory.
"Working with Michael Troughton as the Second Doctor was a great treat! I know a lot of fans have been crying out for a meet between the Third and Second Doctor. It was very exciting knowing that was going to happen."

Michael Troughton, the new voice of the Second Doctor (a role originated on television by his father, Patrick Troughton) said: "The idea of mixing the Doctors is great. The more the merrier! Nick's script is very clever. I thought this would be a really fun tribute so I'm really happy to try and produce – as near as possible – the mischievous Second Doctor."

Doctor Who – The Third Doctor Adventures: The Annihilators is now available to own for £19.99 (on collector's edition CD + download) or £16.99 (on download only) exclusively from the Big Finish website.

Big Finish listeners can save money long-term by purchasing this series within a bundle of 14 Classic Doctor Who box sets due in 2022 for £274 (on CD + download) or £237 (download only). Similarly, a bundle containing 10 Classic Doctor Who 2022 box sets is available for £190 (on CD + download) or £165 (download only).
Alternatively, listeners can purchase The Third Doctor Adventures: The Annihilators and the second 2022 release in this range (title TBA) together in a bundle for £38 (on CD + download) or £33 (download only).
Plus, The Second Doctor Adventures: Beyond War Games, due for release in July 2022, is also available to pre-order as a collector's edition box set (on CD at the special price of £19.99) or a digital download (at the special price of £16.99).
All the above prices include the special pre-order discount and are subject to change after general release.
Big Finish is currently operating a digital-first release schedule. The mail-out of collector's edition CDs may be delayed due to factors beyond our control, but all purchases of this release unlock a digital copy that can be immediately downloaded or played on the Big Finish app from the release date.