For The Love Of StoriesBig Finish produce fantastic full-cast audio dramas for CD and download.
The War Master's Mortal Enemies
16 June 2021
A return to war with a vengeance – prepare to meet the brilliant cast and companions set to face their nemesis in The War Master: Killing Time.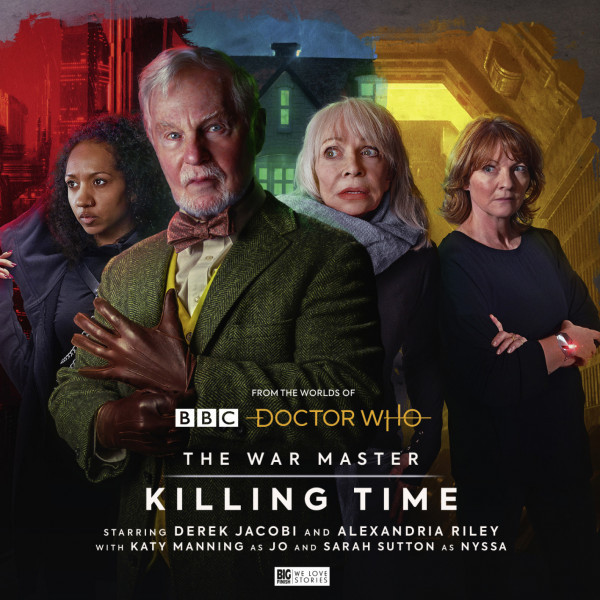 Due for release in August 2021, today the full cast is announced for this box set of full-cast audio adventures, alongside the previously announced Sir Derek Jacobi as the War Master, Katy Manning as Jo Jones, Sarah Sutton as Nyssa and Alexandria Riley as Calantha.
The cast are completed by Ian Abeysekera (Valmont), Timothy Blore (Earl), Doña Croll (The Empress), Laura Doddington (Lady Sutlumu), Sarah Douglas (Mrs Mevel), Raj Ghatak (Second Vizier), Glen McCready (First Vizier), Francois Pandolfo (Officiencier), Prasanna Puwanarajah (Prince Gardam), Mali Ann Rees (Varnomium Computer), Harley Viveash (Waiter) and Fanos Xenofós (Professor Merc-Hodden).
The War Master: Killing Time is available for pre-order as a collector's edition four-disc box set (on CD at £24.99) and as a digital download (at £19.99), exclusively HERE!
For centuries, the Stagnant Protocol has been forgotten by the universe: an empire populated by a race that can never advance… a race the Master seeks to seize control of.
Unfortunately for him, he has a rival – Calantha – and she understands how to manipulate the system better than he could ever hope. His only chance of defeating her lies in the hands of some old acquaintances, whether they realise it or not.
The actors behind two former companions of the Doctor have explained what it means to once again meet the evil Time Lord, who left such a mark on their lives, in his new incarnation.
Of working with Sir Derek Jacobi, Katy Manning said: "What a Master to land me with! I thought Roger Delgado was pretty scary when he looked into my eyes, but Derek! He is so wonderfully nasty – I could feel his eyes burning through the glass in recording.
"I had an extraordinary relationship with Roger as the Master – after he'd hypnotised me once and that was it, Jo thought "No, not again!" She had a very interesting relationship with the Master, there was a sort of respectful fear of him, and he had a sort of a strange respect for her.
"It was rather exciting actually – instead of going back, I've gone forward and it's upped the game a little bit more. He's more dangerous and she's older, and I've found the whole experience quite wonderful. And the honour of working with Sir Derek Jacobi – well, my career is complete now, there's nothing else I need to do!"
Sarah Sutton added: "It's a long time since my character has been in contact with the Master, and for Nyssa, of course, that's a major part of who she is and why she is as she is – because of what the Master did to her father, it's part of her history. So this has been such a joy to do, and I'm very, very happy that I had the chance to work with Derek – it's just been marvellous!"
The War Master: Killing Time is available for pre-order as a collector's edition four-disc box set (on CD at £24.99) and as a digital download (at £19.99) HERE.
Big Finish listeners can save money by ordering a bundle of both The War Master Series 5-6 for £48 as collector's edition CD box sets or £39 as digital downloads HERE.
Please note that Big Finish is currently operating a digital-first release schedule. The mail-out of collector's edition CDs may be delayed due to factors beyond our control, but all purchases of this release unlock a digital copy that can be immediately downloaded or played on the Big Finish app from the release date.