We love StoriesBig Finish produce great full-cast audio drama for CD and download, featuring many popular television fantasy series.
5 December 2015
Catch up on a week of news, releases and reveals from the worlds of Big Finish...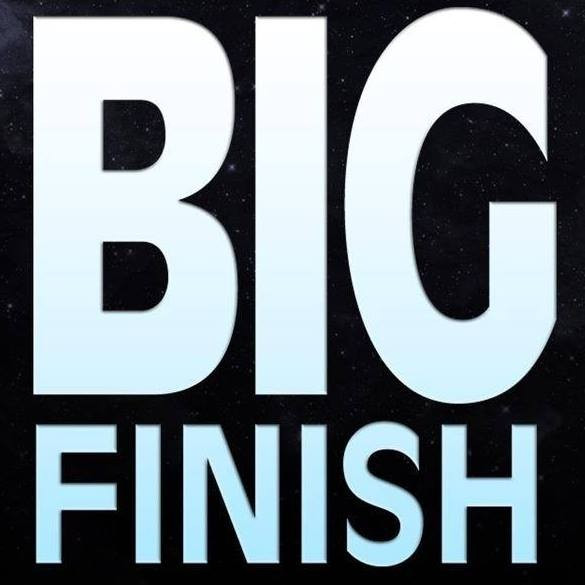 This week we've enjoyed some exclusive previews of our future titles – and taken the chance to celebrate the past!
With the release in June of Doctor Who: The Secret History, our 200th Doctor Who Main Range release, we've polled our listeners to discover their Number One title. Robert Shearman's Christmas classic Doctor Who: The Chimes of Midnight came away with first place, closely followed by Marc Platt's Doctor Who: Spare Parts and Lance Parkin's Doctor Who: Davros in second and third respectively.
The winner was announced at the Chicago TARDIS 2015 convention by Big Finish Executive Producers Jason Haigh-Ellery and Nicholas Briggs; with the unveiling captured in a special two-part Big Finish Podcast. Congratulations to the teams behind these amazing releases – and here's to the next 200!
From one Christmas special to another... and the trailer for The Confessions of Dorian Gray: The Spirits of Christmas is now online! This festive pair of adventures were written by Tim Leng and Alan Flanagan, and stars Alexander Vlahos, Hugh Skinner, Katy Manning and David Warner. Listen to the trailer now before its release later this month.
Our adult adventures continue into the New Year with our monthly Torchwood releases. Further details of the Series 1 finale Torchwood: More Than This are now online, as well as a trailer for January's Torchwood: Uncanny Valley starring John Barrowman as Captain Jack Harkness.
Torchwood can be bought episodically from the Big Finish website, with money-savings series subscriptions also available. And remember, when you choose to buy these titles on CD directly from Big Finish, you will also unlock instant access to a digital copy for download on day of release.

June 2016 sees the release of Survivors: Series 4. Big Finish's acclaimed revival of Terry Nation's post-apocalyptic hit, Series 4 picks up the stories of Greg (Ian McCulloch) and Jenny (Lucy Fleming), as they scout out the countryside on behalf of the Whitecross community.

Along the way, the pair will reunite with old friends Jackie (Louise Jameson) and Molly (Fiona Sheehan), as well as a new community led by the inspirational Theo (Ramon Tikaram). Meanwhile, deep within a government bunker, former civil servant Evelyn Piper (Zoe Tapper) finds that no amount of planning can prepare you for the end of the world. For more details on this terrifying new box-set, check out the product page here.

Our next reveal comes from the dark days of World War 2 Britain, with the long-awaited trailer for Doctor Who: The Churchill Years Volume 1. Ian McNeice reprises his role as the legendary war-time Prime Minister Winston Churchill for further adventure with the Ninth, Tenth and Eleventh Doctors – as well as returning Christmas companions Danny Horn as Kazran Sardick and Holly Earl as Lily Arwell. Listen to the trailer now:

This release will be available exclusively from the Big Finish website until 31st March 2016, so it's the perfect opportunity to be one of the first to listen!
A special bundle is also available for purchase, comprising Doctor Who: The Churchill Years Volume 1 along with The Diary of River Song: Series 1 and Doctor Who: Classic Doctors, New Monsters.
One further New Series secret has also been revealed this week – the episode titles for UNIT: Shutdown are now available online. This second box-set once again features Kate Stewart (Jemma Redgrave) and her UNIT team, and the news coincides with a special offer on our epic UNIT: Dominion box-set. This epic five-disc boxset penned by Nicholas Briggs and Jason Arnopp sees Dr Elizabeth Klein's (Tracey Childs) UNIT team join forces with Ace (Sophie Aldred), Raine
Creevy (Beth Chalmers) and two incarnations of the Doctor (Sylvester McCoy and Alex Macqueen). Buy today for just £20 on CD or £15 to download.
This is just one of the many special offers available on our website this weekend. Celebrating the climatic Doctor Who Series 9 finale Hell Bent, the entire range of Gallifrey audios are currently available at special prices, including a super-bundle of every release to date on CD for just £100, with free UK postage. This offer must end at noon Monday 7th December (UK time), so order now!
And ahead of our highly-anticipated Novel Adaptation releases Doctor Who: Theatre of War and Doctor Who: All-Consuming Fire, you can download Doctor Who: Love and War throughout December for just £2.99 as part of our Listeners range of offers.
As an extra special treat, we topped things off this week with the release of Toby Hadoke's Who's Round 149 podcast, featuring Part 6 of his mammoth interview with former Executive Producer of Doctor Who Russell T Davies. Click here to listen now, and don't forget to donate to Russell's nominated charity The Terrance Higgins Trust.

That's all for now – but join us tomorrow for our first new December release! And don't forget you can preview all of our upcoming titles on our What's New page here.