We love StoriesBig Finish produce great full-cast audio drama for CD and download, featuring many popular television fantasy series.
10 January 2016
Catch up on all of this week's news and previews from the world of Big Finish.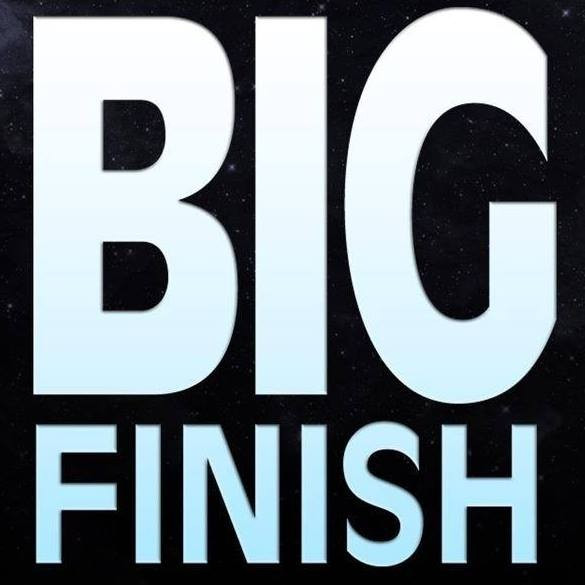 Happy New Year! We hope everyone had a restful holiday – as Big Finish has seen in the New Year with a bang!
We started 2016 with one of our biggest releases yet. The Prisoner: Volume 1 is available to buy and download now!
Mark Elstob takes on the role of Number Six, originally portrayed by the legendary Patrick MacGoohan. A former secret agent with a mysterious reason for resigning, Number Six finds himself imprisoned in the 'Village' – a bizarre community where nothing is quite as it seems. The Village's ever-changing administrator Number Two will stop at nothing to discover Number Six's secrets – and by hook or by crook, they will.
The set is presented in a deluxe five-disc set, limited to just 3,000 numbered copies. The set, which includes an in-depth Behind-the-Scenes audio documentary 'By Hook Or By Crook', is packaged in a lavish colour booklet containing professionally-photographed images of the cast, articles by Nicholas Briggs and specially-commissioned artwork.
Plus, when buying through Big Finish, you'll also receive a whole range of exclusive downloadable features – including instant access to a digital copy for download, an extra documentary, isolated music scores and PDF scripts for all four episodes. Order your copy today – and check out a free half-hour extract from the series below:
Next, we heard word of a different sort of Number 2 – Two Masters that is! Geoffrey Beevers and Alex Macqueen will be joining forces this summer in Doctor Who: The Two Masters, a trilogy of three adventures starring Peter Davison, Colin Baker and Sylvester McCoy.
The trilogy will begin in April with Alan Barnes' Doctor Who: ...And You Will Obey Me, pitting the Fifth Doctor against a decaying Master in the English countryside. Then in May, the Sixth Doctor will meet the New Master at the site of an old battle in Justin Richards' Doctor Who: Vampire of the Mind. Then the two Time Lord renegades join forces to take on the Universe in John Dorney's Doctor Who: The Two Masters, available June 2016!
You can pre-order all three titles today, or subscribe to the Doctor Who Main Range for additional savings! Subscribers can enjoy enjoy a range of extra content, including exclusive Short Trip readings, extended behind-the-scenes special features and much more. Visit our FAQ for more information!
But that's not the last we'll see of the Master – as he'll also be opposing our favourite Infernal Investigators in Jago & Litefoot: Series 11! With a plan to conquer Victorian London well underway, the detectives will need extra reinforcements if they're going to best their latest villain. Can the Sixth Doctor (Colin Baker) offer his assistance?
The reveal comes hand-in-hand with the announcement of Jago & Litefoot: Series 12, which will once again see Christopher Benjamin, Trevor Baxter, Lisa Bowerman and Conrad Asquith return for four more infernal investigations. Both sets can be pre-ordered today, with the entirety of the Jago & Litefoot catalogue still available to order.
It's not only the Doctor's friends who are defending their corner of the Universe – it's his family too! Alex Kingston returns to action in her very own spin-off series The Diary of River Song: Series 1! CD copies of our new box-set have now been sent out to customers after its special Christmas Day digital release. River's new adventures have received rave reviews – so if you haven't yet had the pleasure, order your copy today.
And for more adventures in the Doctor Who universe, don't forget to check out this weekend's special offers on the adventures of Charlotte Pollard! The Edwardian Adventuress' escapades with the Sixth Doctor are all available at a reduced price this weekend – as well as the first box-set in her very own spin-off series! Click here to uncover our full list of offers; but hurry, these special prices end noon Monday January 11th.
As a speciall bonus reveal, the trailer for Doctor Who: The Paradox Planet is now online. Available in March, this new release by Jonathan Morris sees the TARDIS team take on a time tank, in a story which continues in April's Doctor Who: Legacy of Death. Click the links to pre-order now, or subscribe to the whole of The Fourth Doctor Adventures Series 5 here:
That's all for this week – but don't go anywhere, as next week we really get going, with not one, not two, not three but four brand new Doctor Who releases to banish the back-to-work blues!
And, if you still don't feel fully caught up on all the news from the worlds of Big Finish, why not listen to the first part Nicholas Briggs's 2015 review podcast – with three more instalments coming next week!