For The Love Of StoriesBig Finish produce fantastic full-cast audio dramas for CD and download.
23 February 2023
Jo Jones and the Third Doctor reunite for one last epic adventure together in a brand-new box set of nostalgic full-cast audio dramas, released today by Big Finish Productions.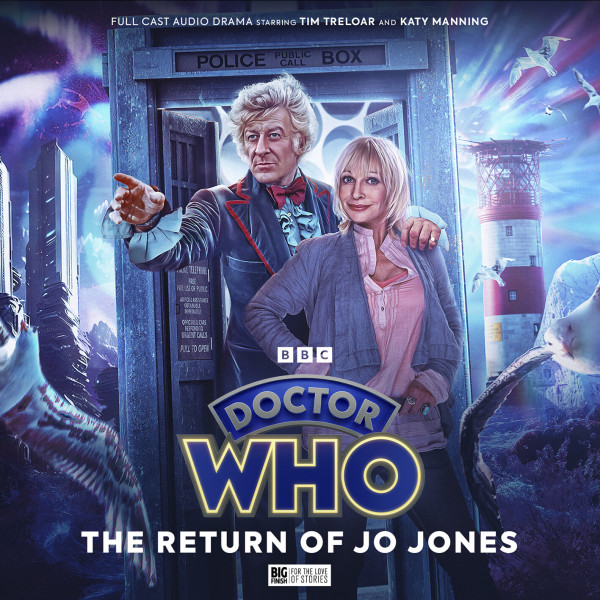 Katy Manning is back as Jo Jones (née Grant), decades after her travels with the Doctor (originally played on TV by Jon Pertwee). Jo's had a lifetime of activism, marriage, children and even grandchildren when she runs into her old friend in the modern-day Isle of Wight.
But for the Third Doctor, now voiced by Tim Treloar, he's only just said goodbye to Jo in the emotional conclusion of the 1973 Doctor Who story, The Green Death. In three new two-part stories, the time-travelling duo face bird attacks, an autocratic regime of robots and a cursed wet dock on an alien planet.
Doctor Who – The Third Doctor Adventures: The Return of Jo Jones is now available to own as a collector's edition CD box set (+ download for just £19.99) or a digital download only (for just £16.99), exclusively here.
Supernature by Matt Fitton (two parts)
After a spate of terrifying bird attacks, Jo Jones is called to the Isle of Wight by an old friend. Something has thrown the natural order out of balance – but Jo's own world has also changed forever.
It turns out she is not the only one investigating. Soon it's like old times, facing down arrogant scientific ambition, as danger grows. The Doctor and Jo have been reunited just when they need each other most.
Writer Matt Fitton said: "We knew this was going to be an emotional story – bringing these two TARDIS travellers back together again after all of this time for Jo. I wanted to do something quite contained in a single location so we could focus on their relationship and the circumstances they both find themselves in."
The Conservitors by Felicia Barker (two parts)
On the planet Viltris in the 49th Century, a regime obsessed with statistical analysis of risk has created a force of robots to protect its citizens. But when Jo Jones arrives with the Doctor on her first space-time voyage for decades, she discovers that long-held grudges from a past conflict are about to bubble over into outright rebellion.
Writer Felicia Barker said: "I was thinking of a story that would foreground the difference between Jo Jones and Jo Grant. Here, Jo is in a position that is perhaps closer to the position the Doctor used to have to take towards her."
The Iron Shore by Lizzie Hopley (two parts)
Landing on the troubled, sea-faring planet Mercator, the Doctor and Jo encounter Callis, a 'cursed man', the last surviving member of his family line - and the curse is keen to find new victims.
Nearby, a condemned wet dock, a deep rectangle of unmoving water, is the source of mystifying rumours. As Jo lifts the lid on the tensions within the local community, the Doctor finds himself in deep trouble.
Writer Lizzie Hopley said: "This is my first story for the Third Doctor – it was a real treat and a challenge. It was also lovely to write for Jo, as in Jo Jones, who is much more independent and grounded here. She's lived a little more and their relationship is built on so much trust at this stage."
Doctor Who – The Third Doctor Adventures: The Return of Jo Jones is now available to own for just £19.99 (collector's edition CD box set + download) or £16.99 (download only).
Big Finish listeners can save money by purchasing this box set and The Third Doctor Adventures: 2023B (title TBA) due for release in October 2023, together in a bundle for just £38 (collector's edition CD box set + download) or £33 (download only).
Alternatively, listeners can buy this series within a bundle of 14 Classic Doctor Who box sets due in 2023 for £274 (collector's edition CD box set + download) or £237 (download only). Similarly, a bundle containing 12 Classic Doctor Who 2022 box sets is available from £198.
All the above prices include the special pre-order discount and are subject to change after general release.
Big Finish is currently operating a digital-first release schedule. The mail-out of collector's edition CDs may be delayed due to factors beyond our control, but all purchases of this release unlock a digital copy that can be immediately downloaded or played on the Big Finish app from the release date.