We love StoriesBig Finish produce great full-cast audio drama for CD and download, featuring many popular television fantasy series.
Timeslip returns and it's WAR!
2 June 2020
Volume two of the brand new full-cast audio drama sequel to Timeslip is now available to own as a collector's edition CD or download.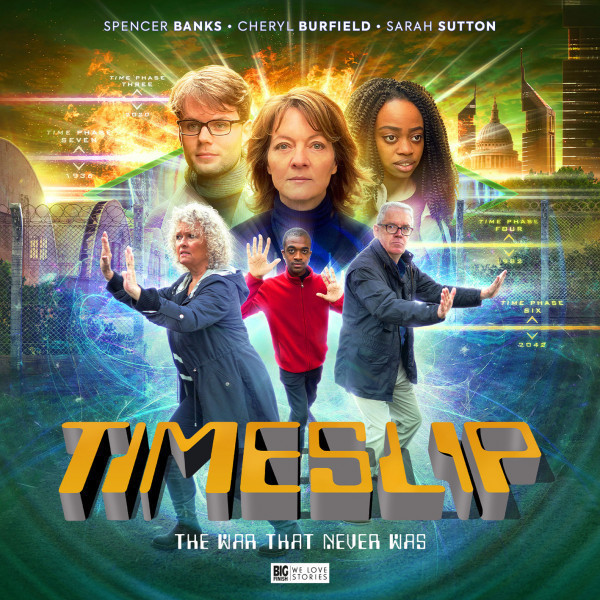 Fifty years ago, ITV first aired Timeslip, a new children's television series, which saw a pair of youngsters venture through a time barrier into new and exciting adventures.
This year, the series has returned, both in a repeat run of the original series via on-demand TV service BritBox UK, and also as a full-cast audio drama sequel.
The well-received Timeslip revival features the cult classic's stars, Spencer Banks (Simon) and Cheryl Burfield (Liz) reprising their original roles, along with new cast members Sarah Sutton (Charlotte), Amanda Shodeko (Jade) and Orlando Gibbs (Neil).
Praise for volume one:
Banks and Burfield still work beautifully together after all this time, and it's fascinating to hear them as adults in a mentoring role to the youngsters who find themselves in the place which Simon and Liz once occupied. It's certainly a promising start to Big Finish's newest audio adaptation, and definitely bodes well for the next tale...

SetTheTape.com
This is a punchy and fast-paced script that never lets up and, for people unacquainted with the original series, there is no disadvantage in the lack of knowledge of the original show. Helen Goldwyn is to be commended for her outstanding direction of the story and Jamie Robertson's sound and music design is of the absolute highest quality...

glamadelaide.com.au
Timeslip: The War That Never Was, written by Marc Platt, is available to own, click here to get it for £19.99 as a collector's edition CD box set or £16.99 on download.
Escaping from the future, our heroes find themselves in the distant past... sort of.
It's 1953, but a very different 1953 from the one we're used to. The UK has still not recovered from a second World War that lasted an extra year longer than in our history. The Americans had to step in to save the besieged country, dropping another Atom Bomb on Berlin. They are now running the grateful UK as if it is part of the US and are now expanding their empire against the growing might of the Soviet Union.
The Time Barrier has been discovered and is being studied by a team of scientists, whilst strange items are being smuggled through from different time periods - weapons perhaps, traded with the future? Spivs and racketeers run the streets, and the US Government plan highways through time... And behind it all is a very familiar face.
Writer Marc Platt said: "It was nearly 50 years ago but I still remember Timeslip, although I could only have seen episodes of it during the school holidays. I looked it up again on YouTube and thought it was intriguing and clever. Best of all, it dealt with what were then very futuristic concepts like climate change and cloning, and did it in an imaginative and engaging way without ever talking down to the audience. A bit like Doomwatch at teatime. And with the original stars Cheryl Burfield and Spencer Banks on board and still so enthusiastic, I couldn't wait to get started."
Timeslip: The War That Never Was is now available to own, click here to get it for £19.99 as a collector's edition CD box set or £16.99 on download.
Timeslip: The War That Never Was can also be purchased as a bundle together with volume 1, Timeslip: The Age of the Death Lottery, by Andrew Smith, at the price of £38 as a collector's edition CD box set and £33 on download. Click here to get the bundle.
Both volumes will remain at this price until general release when they will be available for £24.99 on CD or £19.99 on download.
All CD purchases from the Big Finish website unlock a download exclusive from the Big Finish website and app.
Please note that Big Finish is currently operating a digital-first release schedule. The mailout of collector's edition CDs will be delayed, but all purchases of this release unlock a digital copy that can be immediately downloaded or played on the Big Finish app from the release date.