We love StoriesBig Finish produce great full-cast audio drama for CD and download, featuring many popular television fantasy series.
Torchwood: Ghost Mission - Coming Soon
17 March 2016
Sergeant Andy may finally have a chance to join Torchwood - but can he pass the interview stage? Listen to the trailer for our May release!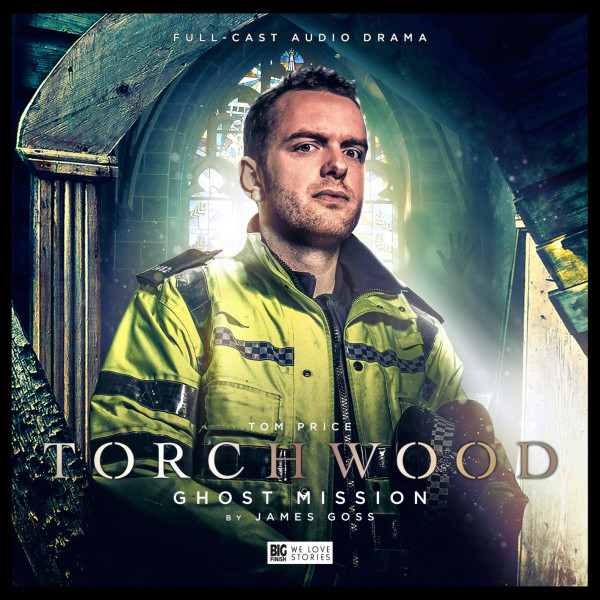 Sergeant Andy Davidson. Outside Torchwood, within the police. Dreaming of the day he'll be recruited to battle aliens and save the world. Today could be the day his life changes; but is Sergeant Andy Davidson ready?
Based on the beloved Doctor Who spin-off series created by Russell T Davies, Big Finish's range of Torchwood audios continue the legacy of Earth's greatest defenders, with new stories set in and around the original TV show.
The third instalment of our second series of audio dramas, Torchwood: Ghost Mission sees Torchwood's loyal ally Sergeant Andy Davison (Tom Price) finally invited to join Gwen Cooper's newly established team. But will he be able to impress Torchwood's board of directors?
Sergeant Andy Davidson has always wanted to join Torchwood. And now he finally gets his chance.
Under the strict observation of his Torchwood Assessor, Andy sets out to prove he's got what it takes. When a chemical spill turns out to have serious consequences, when monsters roam the Bay, and when an ancient entity awakes, Andy decides he could do with a helping hand. The problem is his Torchwood Assessor doesn't have any hands. Norton Folgate is a ghost.
Written by series producer James Goss, Torchwood: Ghost Mission also introduces Torchwood agent Norton Folgate (Samuel Barnett); a former member of the 1950's Torchwood team resurrected as a ghost!
'We accidentally stumbled on Ghost Mission,' explains James. 'We had Tom Price in on Doctor Who: Nightshade, and he was great and we immediately felt shabby for not having a Sergeant Andy story. Also on Nightshade was Samuel Barnett, and he was just so brilliantly funny that our heads just went "...and together they fight crime." And so, the unlikely duo of Sergeant Andy and Norton the Ghost was born. And yes, together they do fight crime. Quite haphazardly, but they do all right in the end, promise.'
'Having them in studio together for Torchwood was delightful. Tom's partner had just given birth to their second child so he was in a dreamlike state of sleep-deprivation – and there was Sam, ready to steal every scene. But Tom gave as good as he got, and I hope the finished result conveys how much fun it was.'
Torchwood: The Victorian Age, the first part of Series 2, is available to buy and download today. The series continues in April with Torchwood: Zone 10, starring Naoko Mori as Toshiko Sato.
In June, Indira Varma will return as Suzie Costello in Torchwood: Moving Target. Two further releases will be announced at a later date.
You can subscribe to the whole of Series 2 today at the special introductory rate of £45 on CD and £40 to download (the price being held through to March 31st 2016).
Series 1 is also still available as a money-saving bundle; including Andy's earlier appearance in Torchwood: More Than This. And remember, when you choose to buy this release on CD directly from Big Finish, you will also unlock instant access to a digital copy for download.