9. Ghost Mission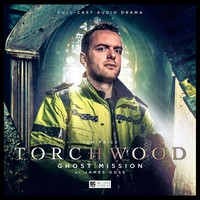 Released May 2016


Prices
CD
US $14.05
Download
US $7.99

Web Special Price!


Synopsis
'Overall, Ghost Mission was as near perfect a story can be... I couldn't ask for a better story from Big Finish.' 9.9/10 Gallifrey Archive
'All the different sides of Torchwood come together in this enjoyable audio from James Goss that puts Tom Price front and centre for a change.' 9/10 Sci-Fi Bulletin
'Samuel Barnett's Norton Folgate who steals the show, and forms a wonderful double act with Sgt Andy. The dialogue will make the listener smile, chuckle and laugh outright...' 4/5 Cultbox
'The chemistry between Tom Price and Samuel Barnett is immediately apparent, buoyed by their brilliant performances and the dark, dry, self-effacing, and very Welsh sense of humour that flows effortlessly through the drama.' Mass Movement
Sergeant Andy Davidson has always wanted to join Torchwood. And now he finally gets his chance.
Under the strict observation of his Torchwood Assessor, Andy sets out to prove he's got what it takes. When a chemical spill turns out to have serious consequences, when monsters roam the Bay, and when an ancient entity awakes, Andy decides he could do with a helping hand. The problem is his Torchwood Assessor doesn't have any hands. Norton Folgate is a ghost.
Torchwood contains adult material and may not be suitable for younger listeners
Written By: James Goss
Directed By: Scott Handcock
Cast
Tom Price (Sergeant Andy Davidson), Samuel Barnett (Norton Folgate), David Warner (OAP), Lisa Bowerman (Quite Anxious Shopper), Laura Doddington and Aaron Neil (The Graces)
Producer: James Goss
Script Editor: Steve Tribe
Executive Producers: Jason Haigh-Ellery, Nicholas Briggs