10. Moving Target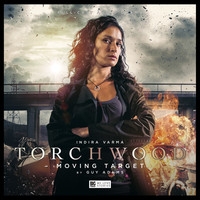 Released June 2016


Prices
CD
US $13.87
Download
US $7.99

Web Special Price!


Synopsis
'If you crave characters that are three-dimensional, erratic and morally questionable, then this is the story for you.' 96% Gallifrey Archive
'An exceptional piece of writing, acting and character development and a glimpse into the mind of the most enigmatic member of the Torchwood Team.' 10/10 Planet Mondas
'Yet again another angle is found for Torchwood, and another character returns to the fold. And yet again we have to hope they return again soon.' 5/5 Cultbox
'Once again this incarnation of Torchwood proves that being adult does not have to mean gratuitous sex, violence and swearing, but can be about dark moral choices. Highly recommended.' 10/10 Sci-Fi Bulletin
'Guy Adams' tale rattles along at a fantastic rate, and featuring as it does a compact and razor sharp cast, is as reliant on its acutely observed and wonderfully constructed characters and dialogue as it is on its terrific golden age of Science Fiction styled plot.' Mass Movement
Suzie Costello would never describe herself as a hero. Not even if she were the last woman on Earth. Turns out, she's the second last woman on Earth, and that'll just have to do.
With the Earth frozen in time, Suzie becomes locked in a battle to save the planet and the life of Alex, the last woman alive. Hunted by alien warriors, and, with every hour that doesn't pass, the stakes are only getting higher.
Suzie Costello would never describe herself as a hero. But she would say she's someone who always makes the right choices. Wouldn't she? .
Torchwood contains adult material and may not be suitable for younger listeners
Written By: Guy Adams
Directed By: Scott Handcock
Cast
Indira Varma (Suzie Costello), Naomi McDonald (Alex), Nicholas Burns (The Referee)
Producer: James Goss
Script Editor: Steve Tribe
Executive Producers: Jason Haigh-Ellery, Nicholas Briggs