Torchwood: Believe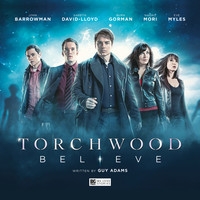 Released April


Prices
CD
US $30.52
Download
US $20.00

Web Special Price!

Synopsis
10/10 "This is classic Torchwood with the classic Torchwood cast. As good and more gritty than the high benchmark of the TV show's best moments." Indie Mac User
"'Believe' is a captivating human drama with aliens as the motivation but not the enemy. While the scale, action and stakes are smaller, in terms of writing this is easily on-par with the award-winning 'Children of Earth'. For Big Finish, 'Believe' is an absolute triumph in recapturing the spirit of early Torchwood while developing its characters and themes." Blogtor Who
"Believe is a fantastic Torchwood story; Guy Adams' script showcases the original team at their very best (or worst), offers plenty of narrative twists and turns and plenty of moral drama. The reunion of the original cast paid off; Believe may be the best Big Finish release of the year so far." The Digital Fix
"Torchwood: Believe is everything the first two seasons were, and so much more. It's witty, it's dark, it's subversive, it's clever, and most of all, it's pure Torchwood. Highly recommended to any Torchwood fan out there." Doctor Who Watch
11/10 "Yes, it is that good! Ever wanted an early era Torchwood movie? Well, here's the best thing you're gonna get! And that's not a bad thing! Believe delivers a new, familiar but truly unique Torchwood story wrapped up into a 2.5 hour epic. Guy Adams true talents as a writer shine brightly here" DWAS
5/5 "Darkly comic and entertaining, Guy Adams captures the team's fractious internal dynamics just right" Cultbox
This title was released in April 2018. It will be exclusively available to buy from the BF website until June 30th 2018, and on general sale after this date.
The Church of the Outsiders believe that mankind is about to evolve, to reach out into the stars. Owen Harper believes that Torchwood has to do whatever it takes to stop them.
Written By: Guy Adams
Directed By: Scott Handcock
Cast
John Barrowman (Captain Jack Harkness), Gareth David-Lloyd (Ianto Jones), Eve Myles (Gwen Cooper), Burn Gorman (Owen Harper), Naoko Mori (Toshiko Sato), Mac McDonald (Steve Ross), Lois Meleri Jones (Andromeda), Mali Harries (Val Ross), Arthur Darvill (Frank Layton), Rhian Blundell (Erin), Chris Rankin (Val's Assistant), Lloyd Meredith (Davey Russell), Jennifer Sims (Grey), Aled ap Steffan (Grey). Other parts played by members of the cast.
Torchwood contains adult material and may not be suitable for younger listeners.
Producer James Goss
Script Editor Steve Tribe
Executive Producers Jason Haigh-Ellery and Nicholas Briggs