For The Love Of StoriesBig Finish produce fantastic full-cast audio dramas for CD and download.
Torchwood One is the stuff of Nightmares
20 April 2022
Journey back to London, 2005 in a brand-new Torchwood One box set packed with nightmarish full-cast audio dramas, released today by Big Finish Productions.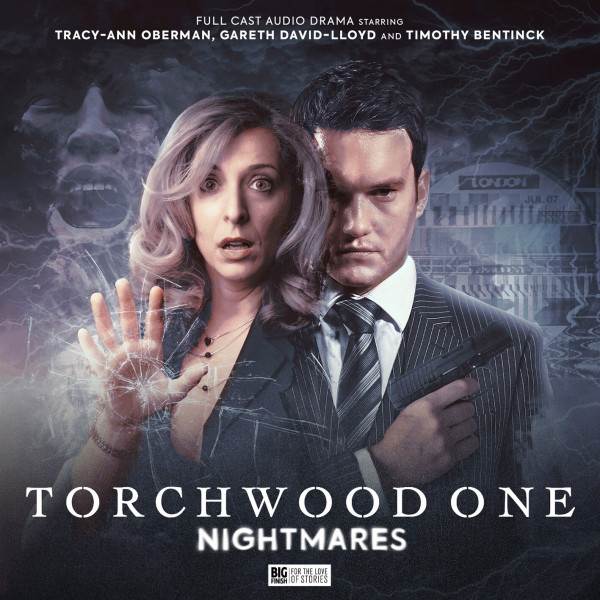 In between defending the British Empire from alien threats, the dutiful head of Torchwood One Yvonne Hartman (Tracy-Ann Oberman) also faces the monstrous side of humans.
In three new audio adventures, she has to deal with a seedy chat show host, a chunk of missing memory and a member of the royal family (deceased). Meanwhile her trusty assistant Ianto Jones (Gareth David-Lloyd) is detained and accused of betraying Torchwood.
Timothy Bentinck MBE, best known for his work in the BBC Radio 4 series The Archers, returns to play the head of alien acquisitions Tommy Pierce and Big Finish regular Jon Culshaw gives a powerful performance as the heinous TV presenter Nigel Best.
Torchwood One: Nightmares is now available to own as a 3-disc collector's edition box set (on CD + download for just £19.99) or digital download only (for just £16.99), exclusively here.
Torchwood wake up to three nightmares. Yvonne Hartman finds herself in an endless chat show; lying next to a dead member of the royal family; and Torchwood One has been invaded. Is it too late to save the world this time?
My Guest Tonight by Tim Foley
Many people have poured out their souls on Nigel Best's sofa. His guest tonight is Yvonne Hartman.
Lola by Rochana Patel
Ianto Jones thinks something's wrong with Torchwood. So does Yvonne Hartman. The problem is they think it's each other.
Less Majesty by James Goss
Yvonne Hartman wakes up in a reasonably nice hotel room next to a dead member of the royal family. Awkward.
Please note that Torchwood contains adult material and may not be suitable for younger listeners.
The superb cast also includes Timothy Blore (The King's Man, Colosseum), Susan Momoko Hingley (Years and Years), Blythe Jandoo (Beauty and the Beast), and Damian Lynch (The Split).
Tracy-Ann Oberman said: "It's always a joy to play Yvonne – I love her! I think she's such a wonderful character. She's so mercurial. Is she a victim, villain, saviour, or demon? We don't know. As the years have gone by with Big Finish, we've added more and more layers as to who she is and the writing for her is spectacular."
Gareth David-Lloyd added: "Ianto is still a bit green and eager to please. He's found himself in a comfortable role at Torchwood and is feeling protected. He's got to step up to the plate and find that brave soul that was there when he went to London when he was a tearaway from Wales."
Torchwood One: Nightmares is available to own for just £19.99 (on CD + download) or £16.99 (download only), exclusively from the Big Finish website.
Big Finish listeners can catch up with the previous three Torchwood One box sets for £68 (CD + download) or £55 (download only) when purchased together in a bundle.
All the above prices include the special pre-order discount and are subject to change after general release.
Big Finish is currently operating a digital-first release schedule. The mail-out of collector's edition CDs may be delayed due to factors beyond our control, but all purchases of this release unlock a digital copy that can be immediately downloaded or played on the Big Finish app from the release date.