For The Love Of StoriesBig Finish produce fantastic full-cast audio dramas for CD and download.
Two Doctors destined for Peladon
30 November 2021
Colin Baker, Alex Kingston, Bonnie Langford and Paul McGann lead the incredible guest cast list for January 2022's special Doctor Who box set from Big Finish Productions.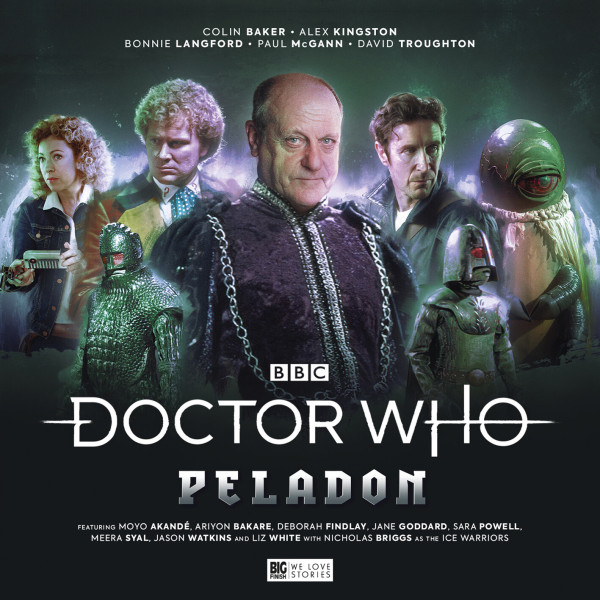 The Sixth and Eighth Doctors, Mel and River Song join multiple time and space travellers visiting the legendary mining planet of Peladon in four brand new full-cast audio adventures. Expect conflicts as stormy as the weather when dynasties rise and fall, science gives way to superstition, and anarchy pulls at the fraying threads of an aeons-old civilisation.
The legacy of King Peladon (the previously-announced David Troughton, returning to the role he first played on television 50 years ago) is followed over the years by familiar friends and foes, plus some new faces, including Alpha Centauri (Jane Goddard), Queen Thalira (Deborah Findlay), Queen Minaris (Sara Powell), Chancellor Barok (Jason Watkins), Helais (Liz White), Arla (Meera Syal) and the Ice Warriors (Nicholas Briggs).
Doctor Who – Peladon is now available to pre-order as a collector's edition box set (on CD for just £24.99) or a digital download (for just £19.99), exclusively here.
Journey to Peladon, member world of the Galactic Federation and home to intrigue and adventure. With each passing generation, the toll of industrial exploitation and deadly political games is taking its toll on the planet. Can the Doctor and his allies guide the course of history towards a hopeful future? Or is Peladon's fate in the lap of the gods?
The four epic adventures in this box set are as follows:
The Ordeal of Peladon by Jonathan Barnes and Robert Valentine
When King Peladon hears of a holy man with seemingly magical powers and the gift of foresight, he resolves to discover the truth of it for himself. But his quest to understand the shifting loyalties of his people is one from which he cannot return unchanged.
The Poison of Peladon by Lizzie Hopley
River Song has infiltrated the court of Queen Thalira in the guise of a high priestess. With rumours swirling that Peladon is on the brink of a republican uprising, River joins forces with her new best friend, Alpha Centauri, to get to the bottom of the mystery.
The Death of Peladon by Mark Wright
The Sixth Doctor and Mel arrive on Peladon to discover a world on the brink of environmental disaster. Civil war looms and a dark plot brews in the shadows of the court. Unless they can help avert catastrophe, there seems to be little hope left for one of the Doctor's favourite planets.
The Truth of Peladon by Tim Foley
Arla, last of Peladon's great seamstresses, is commissioned to make a great cloak for the latest coronation. She'll need a new assistant to complete her work in time, and one appears: the Eighth Doctor! Determined to show Arla the truth of Peladon, the delicate threads he's drawing together will change Peladon forever.
The stellar cast of visitors to the planet is completed by Moyo Akandé (Guilt), Ashley Zhangazha (Manhunt), Aaron Neil (Home), Remmie Milner (His Dark Materials), Ariyon Bakare (Good Omens), David Sturzaker (Da Vinci's Demons) and Justin Salinger (Humans).
Doctor Who – Peladon is now available to pre-order as a collector's edition box set (on CD at £24.99) or a digital download (at £19.99), exclusively from the Big Finish website.
All the above prices include the special pre-order discount and are subject to change after general release.
Big Finish is currently operating a digital-first release schedule. The mail-out of collector's edition CDs may be delayed due to factors beyond our control, but all purchases of this release unlock a digital copy that can be immediately downloaded or played on the Big Finish app from the release date.