For The Love Of StoriesBig Finish produce fantastic full-cast audio dramas for CD and download.
UFO Emerges from the SHADO!
11 August 2022
The brand-new UFO range has landed at Big Finish Productions! The first box set of action-packed, spine-tingling full-cast audio dramas, based on Gerry Anderson's ITV series, is released today.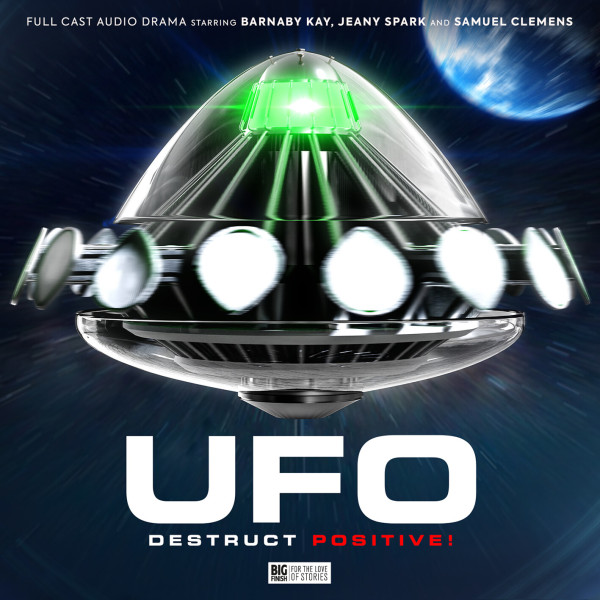 Originally launched in 1970, the UFO TV series followed the top-secret missions of SHADO (Supreme Headquarters Alien Defence Organisation), set in what was then the futuristic world of 1980.
In these three brand-new adventures, Barnaby Kay stars as Commander Ed Straker — originally played by the late, great Ed Bishop — uncovering a hidden battle between humanity and an alien race with a sinister, unknown agenda. SHADO must resort to extremes in order to fight, survive and win the war!
UFO: Destruct Positive! is available to own as a collector's edition 3-disc CD box set (+ download for just £19.99) or digital download (for just £16.99), exclusively here.
The incredible cast also includes Jeany Spark (as Lieutenant-Colonel Virginia Lake), Samuel Clemens (as Colonel Alec Freeman), Lynsey Murrell (as Lieutenant Gay Ellis), Harry Myers (as General James Henderson), and Yasmin Mwanza (as Captain Petra Carlin).
The human race is under threat.
The public has no idea. But alien ships are already attacking. And aliens are already here.
Ed Straker is a test pilot in the US Air Force. Then, one day, his aircraft is attacked by a UFO.
His life will never be the same again...
The three action-packed adventures, written by Andy Lane, are as follows:
Destruct Positive!
Ed Straker is a test pilot in the US Air Force. Then, one day, his aircraft is attacked by a UFO. His life will never be the same again…
Things We Lost in the Darkness
SHADO training is underway. But an exercise turns into the real thing as the aliens bring terror to the quiet of the sleepy, English countryside.
Full Fathom Five
Skydiver is SHADO's new, formidable frontline defence against alien attack. Stepping aboard, Ed Straker is on a mission to find out if the right people are in charge. Because when things go badly wrong, they are the ones whose lives are on the line.
Co-Script Editor and Director Nicholas Briggs said: "This is a reimagining with its roots very much in the spirit and style of the original, capturing all of its very best elements. It's an intoxicating blend of the old and new, making it fun for long-term fans of UFO and accessible for those listeners who might be new to the series. It's just a great, hard-edged, sci-fi adventure!"
Producer Emma Haigh added: "It's so exciting to bring UFO into the audio world. It was another iconic TV series from Gerry Anderson and it's wonderful to hear Ed Straker, Virginia Lake, Alec Freeman and the SHADO team and stories in this reimagining."
Writer Andrew Lane said: "Being offered the gig to write UFO was a dream come true. I'd known Jamie Anderson (script editor and son of Gerry Anderson) socially for a few years at that point, and I guess my enthusiasm for the series had transmitted itself to him! He knew I could write, he knew I loved the series and he trusted me to get it right."
UFO: Destruct Positive! is now available to own for just £19.99 (collector's edition CD box set + download) or £16.99 (download only), exclusively from the Big Finish website.
Big Finish listeners can save money by purchasing UFO: Destruct Positive! and UFO: Volume 2 (Title TBC), due for release in March 2023, together in a bundle for just £38 (collector's edition CD box set + download) or £33 (download only).
All the above prices include the special pre-order discount and are subject to change after general release.
Big Finish is currently operating a digital-first release schedule. The mail-out of collector's edition CDs may be delayed due to factors beyond our control, but all purchases of this release unlock a digital copy that can be immediately downloaded or played on the Big Finish app from the release date.