For The Love Of StoriesBig Finish produce fantastic full-cast audio dramas for CD and download.
17 November 2016
As first exclusively revealed in this month's Doctor Who Magazine, Big Finish have some very special news indeed about the fourth set of UNIT - The New Series...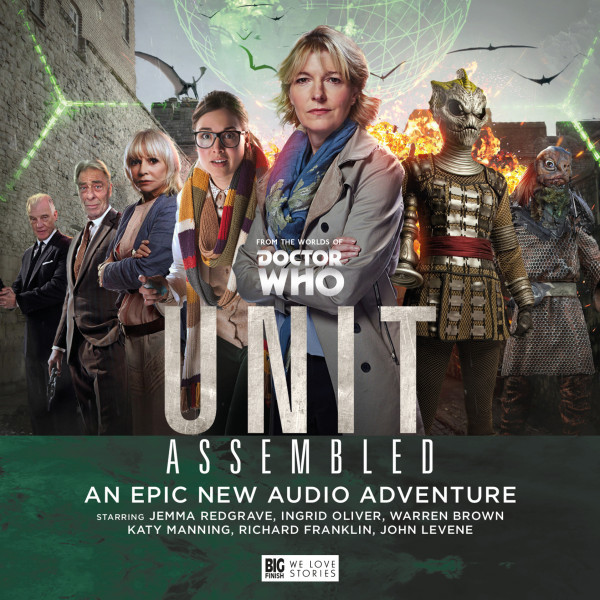 New and classic eras of UNIT will come together in Big Finish's four-disc audio drama UNIT: Assembled, which is released in May 2017. The ongoing series, which tells the further adventures of Kate Stewart (Jemma Redgrave) and Osgood (Ingrid Oliver) gains three special recruits for the box set - Jo Jones (Katy Manning), John Benton (John Levene) and Mike Yates (Richard Franklin).
'We went into our UNIT audio dramas with the aim of keeping them centred on the new series era of the organisation,' says producer David Richardson. 'But after two years of releases, the time has come to look fondly to the past… and when an old enemy threatens the world, Kate Stewart needs the help of her father's colleagues.'
The old enemy in question is the Silurian race, here represented in their new series form and played by Richard Hope and Neve McIntosh (who worked together as Silurians in The Hungry Earth and Cold Blood).
'A hibernating population of reptiles has awoken,' David reveals, 'and their leader Jastrok has a very different plan for getting the world back and ridding it of the pesky apes.'
One episode in the box set also centres on the Sea Devils, as Jo Jones must try and fill the shoes of her Doctor in order to save the world. Nicholas Briggs, the voice of the Daleks, plays the Sea Devil leader Krellix.
'I'm so thrilled by this box set,' says David. 'It's a great big story but full of heart and loving references to the past - little Easter Eggs that will delight everyone who has seen the era of the Third Doctor. And it was wonderful to have such legends as Katy, John and Richard with us at the recording, acting together in those roles for the first time since 1974. For everyone involved, this was very special indeed.'
UNIT: Assembled is written by Matt Fitton and Guy Adams, and directed by Ken Bentley. A fifth disc in the box set features behind the scenes interviews with the cast and crew. The cover (revealed today) is by Tom Webster.
The set is currently at a pre-order price of £20 for either Download or CD, or can be bought as part of a UNIT - The New Series bundle which collects together the four UNIT - The New Series sets for £80 on CD or Download.
Check out the entire range here.