We love StoriesBig Finish produce great full-cast audio drama for CD and download, featuring many popular television fantasy series.
UNIT - Revisitations, out soon
16 November 2018
There's only five days to go until the seventh UNIT series, UNIT - Revisitations, is released. But before its deployment, here's the chance to pick up some other classic and new series UNIT stories on special offer.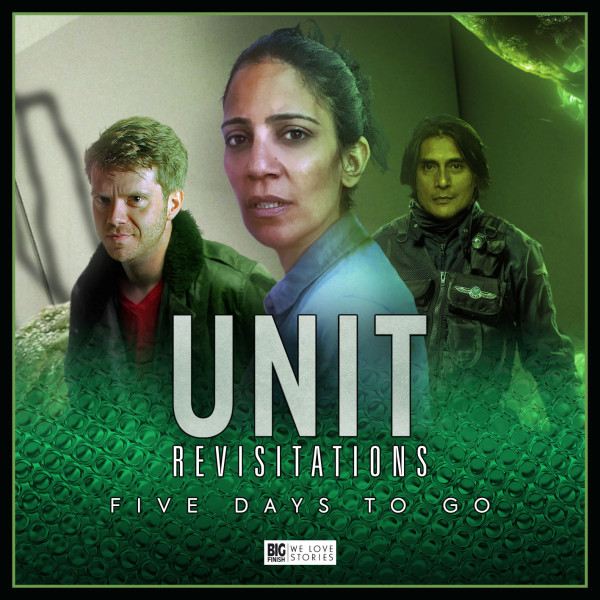 Four new adventures are coming out this month in UNIT – Revisitations. Kate Stewart, Osgood and the UNIT team are still reeling from the events of UNIT – Cyber-Reality, but the alien threats just keep on coming!
Revisitations finds the UNIT team fighting an incursion of the Wirrn (first seen in the Fourth Doctor television story, The Ark in Space) in a two-part tale by Chris Chapman. There's a morality drama by David K Barnes, and the return of Pik-Sen Lim as Chin Lee (originally in the Third Doctor story The Mind of Evil), now a Doctor herself in an adventure by Roy Gill. Will we also see a return of the fearful Keller Machine?
To celebrate the release of this new box set, we've special offers on many classic and new series UNIT releases.
Our classic UNIT stories at now just £1 on CD (whilst stocks last) or 99p on download. And you can get the first story, The Coup, starring the late Nicholas Courtney, absolutely FREE!
Also on special offer are stories from The Vault, UNIT's jokingly known 'The Museum of Terrors' – a high security establishment where UNIT keeps all of its alien artifacts. Running this installation are Warrant Officer Charlie Sato (Yee Jee Tso) and Captain Ruth Matheson (Daphne Ashbrook), who listeners may recognise from both actors appearing in the Doctor Who TV
And you can find Captain Ruth Matheson in the latest volume of the Doctor Who Companion Chronicles, check out the excellent trailer below.
Or if you've yet to meet Elizabeth Klein (the Doctor's old friend and sometime adversary from this month's Main Range release, Warlock's Cross), then why not try UNIT: Dominion?
When Big Finish acquired the licence for adventures featuring characters from the new series of Doctor Who, first out of the gate (or should we say tower?) were adventures with UNIT, featuring Jemma Redgrave as Kate Stewart and Ingrid Oliver as Osgood, plus a few new members joining the ranks. And they have had a whole variety of alien threats to defeat, including the Master and the Cybermen!
In the fourth series, UNIT – Assembled, classic UNIT and new UNIT 'assembled' together to defeat the Silurians and the Sea Devils.
And in the third series, UNIT – Silenced, how do you defeat an opponent you can't remember?
Head to URL https://www.bigfinish.com/offers/v/unitoffers and use access code OSGOOD18 to view these special offers. These offers expire at 23:59 (UK time) on 22/11/2018 so don't miss out!