244. Warlock's Cross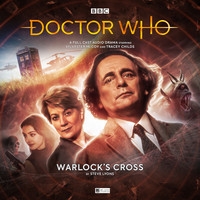 Released November 2018


Prices
| | |
| --- | --- |
| CD | US $19.33 |
| Download | US $12.99 |

Synopsis
It's time the truth was told. About UNIT. About the Cybermen invasion. About the so-called 'Doctor'. About what happened all those years ago, at Warlock's Cross. About the man they keep locked up in a cage, in a secret prison…
It's time. Because UNIT scientific adviser Elizabeth Klein is going to help ensure the truth is brought to light.
Today's the day… that UNIT falls.
[Please note: this story is the third in a series of linked stories featuring UNIT and Daniel Hopkins, beginning with The Helliax Rift and continuing with Hour of the Cybermen.]
Written By: Steve Lyons
Directed By: Jamie Anderson
Cast
Sylvester McCoy (The Doctor), Tracey Childs (Klein), Blake Harrison (Daniel Hopkins), Genevieve Gaunt (Linda Maxwell), Richard Gibson (Colonel McKenna), Tom Milligan (Gregory Lord), Russ Bain (Lieutenant Colonel Lewis Price). Other parts played by members of the cast.
Producer Nicholas Briggs
Script Editor Alan Barnes
Executive Producers Jason Haigh-Ellery and Nicholas Briggs