For The Love Of StoriesBig Finish produce fantastic full-cast audio dramas for CD and download.
Which way will you go, Cicero?
22 January 2021
Samuel Barnett returns to Rome in Cicero – The Crossroads, a brand new feature-length audio drama from Big Finish Originals, due for release in July 2021.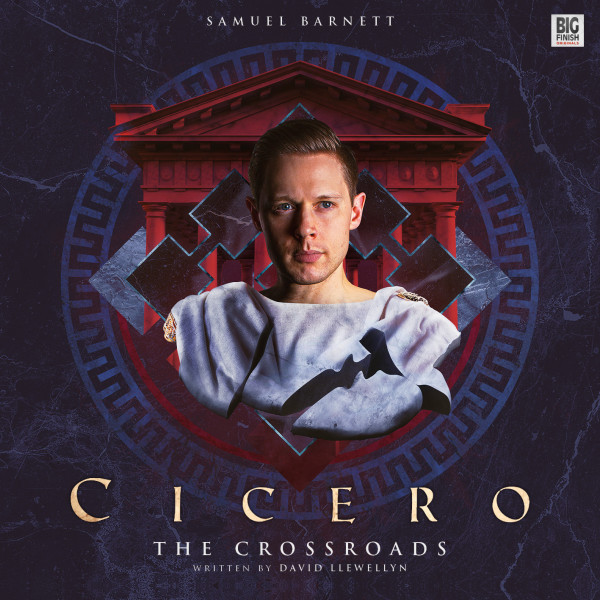 Back by popular demand, Big Finish's historical drama Cicero is set during the Roman Republic, when an age of bloody civil war and dictatorship is at an end. Ambitious lawyer, Marcus Tullius Cicero (Samuel Barnett), is a politician, lawyer and orator who must find a way to balance family and friendship with his unwavering commitment to justice.
This latest epic tale takes us into the underbelly of Roman politics, where Cicero finds himself between two democratic dynamos with more to lose than ever before.
Cicero – The Crossroads is now available to pre-order as a digital download only (at £9.99), exclusively HERE!
Rome, 60BC. Gaius Julius Caesar has returned to the city, forming an alliance – a new Triumvirate – with statesmen Pompey and Crassus. But when he extends the same invitation to Cicero, he is rejected: such a pact could threaten the Republic after all.
Elsewhere, Publius Clodius Pulcher seeks to renounce his patrician status and run for Tribune. Real power lies in the city and its people, he claims, not in Rome's armies.
Caught between two charged political enemies, Cicero soon discovers he's a pawn in a dangerous game: one in which he stands to lose everything.
Joining Samuel Barnett (Torchwood, Dirk Gently) in this feature-length sequel are returning cast members George Naylor (Jeremiah Bourne) and Laura Riseborough (The War Master, The Fourth Doctor Adventures), alongside an excellent ensemble which includes Rosie Day (The New Adventures of Bernice Summerfield), Rupert Young (Merlin, Dracula), Sarah Ovens (Frankenstein, Torchwood), Henry Nott (The War Master), Amanda Shodeko (Timeslip, Class), and Silas Carson (Time Lord Victorious, The War Master).
Director and co-producer Scott Handcock said: "We had such a positive response to our first wave of Cicero dramas, it was a thrill when Jason (Haigh-Ellery, Big Finish chairman) approached me and asked if we'd consider tackling a feature-length, movie-style drama later in his life.
"The Crossroads traces events some twenty years after the original series, when Cicero becomes a victim of political enemies circling around Rome. It's a story that spans several years; features the infamous Triumvirate of Caesar, Pompey and Crassus; and reunites us with Cicero at a very different point in his life. He's older, wiser, wearier… and he and his family have a great deal more to lose than their reputations."
Cicero – The Crossroads is now available to pre-order as a digital download only (at £9.99), exclusively HERE!
Big Finish listeners can save money by ordering Cicero – The Crossroads alongside Cicero – Series 1 together in a bundle for just £30 on download.
Plus, for a very limited time, all of the full-cast audio drama series in the Big Finish Originals range are available to download and own at up to 50% OFF.
And listeners can save even more money with the complete Big Finish Originals bundle limited offer, which includes all of the following full-cast audio drama series for just £90: ATA Girl 1, Cicero – Series 1, Jeremiah Bourne in Time, Shilling and Sixpence Investigate, Blind Terror, Transference and The Human Frontier 1.
All the limited offers end at 23:59 on 25 January 2021.