Classic Doctors New Monsters Volume 01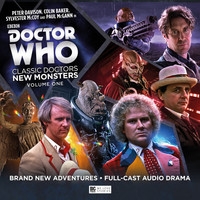 Released July 2016


Prices
| | |
| --- | --- |
| CD | US $45.13 |
| Download | US $30.00 |

Behind the Scenes
Gatzaa! Vastrati foraxi pel gilfane codra panthak
Padskaa! Pel codsyla rastac si practeel fel dash fel jak.
Bol jalvaan me codrakone. Tass! Practeellik! Codra! Codrafee crel pel vash. Codrafee crel pel dashfellik.
Codrafee crel chack.
Si jak cahoonic? Si practeel Doctor? Si bass gatzaa? Soo non jak gatzaa brendissa?
Codrakone massac pandat so ka!
Sycora jak! Sycora telpo! Sycora faa!
Falfass Bakthaa jak! Falfass Bakthaa telpo! Falfass Bakthaa faa!
Veniss crel tor met falfass bakthaa dot com.
Falfass bakthaa? Codrafee padskaa pel vol!
Cattle! Jump aboard this clever story [property].
Welcome! This choice release is funny and dark and strong.
Therefore surrender to us. Think! Laugh! Cherish! [Own]
We bring the wasteland. We bring the darkness. We bring death.
The strong girl? The funny Doctor? Their coward friends [yellow people]? Your weak cattle species?
We will own you all now!
Sycorax Strong! Sycorax Mighty! Sycorax Rock!
Big Finish strong! Big Finish Mighty! Big Finish Rock!
Subscribers get more at bigfinish.com Big Finish?
We love stories! [We welcome the word]