15. Hamlet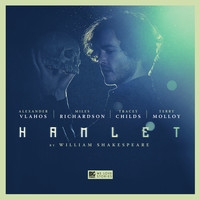 Released August 2017


Prices
| | |
| --- | --- |
| CD | US $22.37 |
| Download | US $14.99 |

Synopsis
"Vlahos brings that talent in spades. He uses a soft and natural tone during soliloquies that suggests Hamlet is getting flashes of insight beyond his years. This is contrasted with the brash tone he uses to accompany his coarser behaviour. It's a very strong performance worthy of the great stage actors of the day. 10/10" Blogtor Who
"For those approaching the play, or even Shakespeare, for the first time, this is probably pitched exactly right. For a company that specialises in sound, the atmosphere and feeling of aural depth is undeniably strong" We Are Cult
"Alexander Vlahos is a triumph as Hamlet. 10/10" Indie Mac User
"To be or not to be: that is the question…"
Following the death of his father, the King of Denmark, young prince Hamlet returns home to find his mother married to his uncle: the late king's brother, Claudius.
When Hamlet is later visited by the ghost of his father, he learns that the murderer was actually the King's own brother and vows to take revenge. However, Hamlet's contemplative nature works against him, breeding doubt and hesitation at every turn, until the only certainties he has left are madness, betrayal and murder…
Alexander Vlahos stars in this three-hour production of Shakespeare's most famous tragedy.
This release also includes twenty-five minutes of roundtable interviews with the cast as they discuss the production.
Script Editor: Justin Richards
Producer: Scott Handcock
Executive Producers: Jason Haigh-Ellery and Nicholas Briggs
Written By: William Shakespeare
Directed By: Scott Handcock
Cast
Alexander Vlahos (Hamlet), Miles Richardson (Claudius), Tracey Childs (Gertrude), Terry Molloy (Polonius), Daniel Brocklebank (Horatio), Deirdre Mullins (Ophelia), Samuel Barnett (Laertes), Jolyon Westhorpe (Rosencrantz), Geoffrey Breton (Guildenstern), Barnaby Edwards (The Ghost), Youssef Kerkour (Barnardo), Alex Jordan (Francisco), James Joyce (Marcellus). Other parts played by members of the cast.