2. Jago & Litefoot Series 02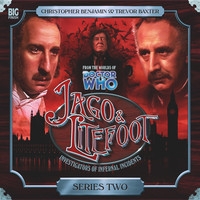 Released January 2011


Prices
| | |
| --- | --- |
| CD | US $45.13 |
| Download | US $30.00 |

Synopsis
2.1 Litefoot and Sanders by Justin Richards
Women are being killed on the streets of London, and the evidence points to it being the work of a vicious vampire. This should be a case for Jago and Litefoot but – to the astonishment of Jago – the esteemed investigators of infernal incidents have gone their separate ways. It's now a case for Litefoot and Sanders – but Jago isn't going to go away quietly…
2.2 The Necropolis Express by Mark Morris
Strange things are happening in the pauper's graveyard at Charnel's End. There are hideous creatures in the undergrowth, a mysterious light emanating from the church, and something deadly beneath the ground itself. Someone from Litefoot's past has come back to haunt him, and things may never be the same again…
2.3 The Theatre of Dreams by Jonathan Morris
"Roll up gentlemen and ladies, roll up! Welcome to Deuteronomy's Theatre De Fantasie, the show where your dreams come true!"
Henry Gordon Jago believes he has made a killer booking for the New Regency Theatre. Unfortunately, he is absolutely correct…
2.4 The Ruthven Inheritance by Andy Lane
The pathology skills of Professor Litefoot and Dr Sacker are called upon by Lord Ruthven, who asks them to catalogue a cache of bones beneath his country estate. And so begins the endgame… as a plan long laid come to its glorious fruition.
Written By: Justin Richards, Mark Morris, Jonathan Morris and Andy Lane
Directed By: Lisa Bowerman
Cast
Christopher Benjamin (Henry Gordon Jago), Trevor Baxter (Professor Litefoot),
Lisa Bowerman (Ellie), Conrad Asquith (Sergeant Quick), David Collings (Gabriel Sanders), Chloe Howman (Mags), Alex Mallinson (Landlord/The Station Master/Fosco/Creature), Vernon Dobtcheff (Reuben Mord), Jennie Stoller (Madame Deuteronomy), Simon Williams (Lord Ruthven), Duncan Wisbey (Dr Orman Sacker). Other parts played by members of the cast.
Producer David Richardson
Script Editor Justin Richards
Executive Producers Jason Haigh-Ellery and Nicholas Briggs