Love Songs for the Shy and Cynical (Paperback)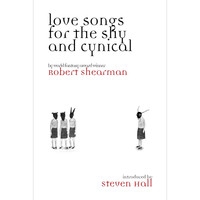 Released October 2010

Behind the Scenes
Tiny Deaths, Rob's first collection of short stories, was published by Comma Press in 2007. It won the World Fantasy Award for best collection, was shortlisted for the Edge Hill Short Story Prize and nominated for the Frank O'Connor International Short Story Prize. One of the stories from it was selected by the National Library Board of Singapore as part of the annual Read! Singapore campaign.
Rob was one of the writers for the BAFTA award winning first series of the revived Doctor Who series starring Christopher Eccleston. His episode, Dalek, was runner-up for a Hugo Award, and his award-winning contributions to the audio range of Doctor Who released by Big Finish have been broadcast on BBC Radio. He was also one of the writers of the bestselling Doctor Who novel for BBC Books, The Story of Martha. He also contributed to the second series of BBC1's Born and Bred.
In 2008 his short story project for BBC7, The Chain Gang, won him a Sony Award, and he provided a second series for them in 2009. Other stories have been broadcast by the BBC on Radio 3 and Radio 4. His many plays for Radio 4, produced by Martin Jarvis, include Inappropriate Behaviour, Afternoons with Roger, Forever Mine, Towards the End of the Morning, Teacher's Pet and Odd.


STORIES


Love Among the Lobelias
Roadkill
Sweet Nothings
Pang
This Creeping Thing
14.2
Your Long, Loving Arms
At the Crease
Luxembourg
Sharp
Be of Good Cheer
Jolly Roger
Crumble
George Clooney's Moustache
Love in a Time of Sharing
Not About Love
One Last Love Song
PRAISE FOR ROBERT SHEARMAN:

Shearman offers us haunting, nightmare alternatives to our world that are still somehow utterly recognisable thanks to the way he always picks out the comically mundane among the impossible and the fantastical. He makes each story cling to you, forces you to make sense of it and somehow inhabit it. Steven Moffat, executive producer and Hugo award winning writer of Doctor Who
Rob Shearman is a truly unique voice... His peculiar fantasies of our emotional lives, full of eccentric surprises and exquisite absurdities, tell the secret life of love in all its silly glory. Stephen Volk, author of Ghostwatch and Afterlife
His stories are like the bastard offspring of Philip K Dick and Jonathan Carroll, but with a quirky personality that is completely their own. Stephen Jones, World Fantasy award winning editor, Best New Horror
Robert Shearman has surpassed his incredible debut, Tiny Deaths, with this second collection, which is even better... His stories are numinous, incisive and devastating, by turns hilariously funny and unbearably sad. Mark Morris, British Fantasy Award winner, author of The Deluge
Shearman has called his stories 'love songs' and rightly so - like the best love songs, they go straight to your heart, and haunt your memory. Frank Cottrell Boyce, author of Millions, winner of the Carnegie Medal
Rob Shearman is one of those rare writers who knows that reality can't be pinned down. These stories lift off. They do loop-de-loops. They glide from the mundane to the marvellous, from the dark to the delicious. His stories soar over the landscape of the human heart and return us dizzy, delighted and moved. Alison Macleod, author of Fifteen Modern Tales of Attraction.
| | | | |
| --- | --- | --- | --- |
| AGE: | Teen - adult | BINDING: | Leatherbound |
| TRIMMED SIZE: | 211 x 135 mm | EXTENT | 240 pp |