2.1. My Mother Was an Alien... Is That Why I'm Gay?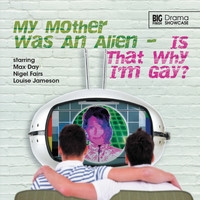 Released November 2012



Synopsis
It's the day of Princess Diana's funeral.
Danny Williams is a lifelong fan of sci-fi TV show Space Station 17, which has been running since the 1960s.
His boyfriend, Paul, doesn't know this. But Danny doesn't know that Paul isn't really called Paul, or that his mother, Yvette Dupont, star of Space Station 17, is about to move in…
THIS TITLE IS NOW OUT OF PRINT ON CD.
Written By: Nigel Fairs
Directed By: John Ainsworth
Cast
Max Day (Paul), Nigel Fairs (Danny), Louise Jameson (Yvette Dupont), John Ainsworth (Commander Milwood/The Announcer)