2.01. Sherlock Holmes: The Final Problem/The Empty House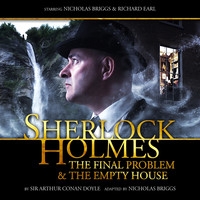 Released October 2011


Prices
CD
US $7.71
Download
US $4.99

Web Special Price!


Behind the Scenes
IN THE STUDIO

SHERLOCK HOLMES

Assistant Producer, Richard Dinnick reminisces about the week that was Sherlock Holmes, series two

DAY ONE: Monday 16th May
The Hound of the Baskervilles
Nick Briggs, Ken Bentley, David Richardson and I meet early at the studio. Richard Earl (Watson) arrives followed by John Banks, Barnaby Edwards, Charlie Norfolk and Samuel Clemens. The recording is amazingly slick, the actors buzzing. As Toby dishes up one of his haute cuisine lunches it strikes me that Richard Earl is the rock upon which the foundation of these audios is built. He spends every second in studio and often asks to do pick-ups unbidden!

DAY TWO: Tuesday 17th May
The Final Problem and The Empty House
Nick has abandoned his idea of treating the morning as rehearsal time. "The energy was too good to miss!" he explains. Actors Nick, Richard and John are joined today by Alan Cox, who played Watson in the 1987 film Young Sherlock Holmes, He gives us a wonderfully measured performance as Moriarty. Despite (or because of?) the huge amount of unintentional innuendo we've detected in Sir Arthur Conan Doyle's writing, all is going swimmingly.

DAY THREE: Friday 20th May
The Reification of Hans Gerber
A cast of thousands! Andrew Havil, Rebecca Tanwen, John Dorney and James Albrecht (who Nick met on Victory of the Daleks) as well Dan Starkey and Terry Molloy along with scriptwriter, George Mann. There is much mirth and colourful language as Nick gains a new regard for the actors playing the Doctor. "If only I could play it as me!" he wails about playing Holmes. "But I've got to play it as someone intelligent who speaks insanely quickly!" Nick is, of course, being self-deprecating. If Richard Earl is the rock then Nick is the aforementioned foundation. He flits between acting and directing with the speed and precision of a humming bird.

DAY FOUR: Monday 23rd May
The Tangled Skein
Giles Watling (brother of Debbie) who has come in to give us his Dracula! Original author, David Stuart Davies arrives, followed by John Banks, Barnaby Edwards and Beth Chalmers, who quips: "I won't need any pick-ups!" I think of a witty riposte but then I remember that she boxes (seriously!) and I shut up! As recording starts I am humbled by levels of talent that surround me. John and Beth slip effortlessly into any character, Giles is understated as the Transylvanian (not stooping to cliché) and Ken adds his steady hand to the tiller, never ruffling the artists.

DAY FIVE: Tuesday 24th May
David interviews cast and crew as we go through the pick-ups and are joined by sound designer, Martin Montague, to record a podcast. Richard and Nick offer fascinating insights into their characters while I remain true to Conan Doyle's unofficial legacy by slipping in several innuendoes! Ken Bentley eyes me like a disapproving headmaster. The whole thing has been a dream for me, but it has now come to an end. For the rest of the Big Finish crew, the show must go on. Nick and David are onto another production, another story, another range…
CHRONOLOGICAL PLACEMENT:

That's for you to investigate!